Looking for a college? Check out Manchester!
College-bound students seeking great value should check out Manchester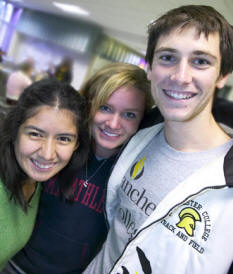 Students seeking a comprehensive undergraduate degree in Indiana will get the best value at Manchester College, reports one of the most popular college rankings. In its 2007 study of "Great Schools at a Great Price," U.S. News & World Report ranks Manchester third among 107 Midwest comprehensive colleges.
"The higher the quality of the program and the lower the cost, the better the deal," says the Aug. 28 edition of the magazine, which hits newsstands Monday.
In addition, Manchester is 20th among the "Best in the Midwest," of comprehensive colleges. The magazine uses 15 indicators of academic excellence and bases 25 percent of its ranking on the opinions of presidents, provosts and deans of peer institutions.
Manchester gets high points for its low faculty-student ratio (1:14), peer assessment and its generous alumni giving rate (31 percent). "It's especially rewarding to know our peers have such high regard for our programs," said David F. McFadden, executive vice president of the college. In addition, such a high alumni giving rate indicates MC does its job well in preparing students for productive lives.
"We're thrilled to be near the top of the Best Value list year after year," said McFadden. (This is the 12th consecutive year for the college.) "We get there by providing students with amazing academic opportunities matched by generous scholarships and grants. We give students an impressive return on their college investment."
Manchester's 1,100 students receive an average of half their tuition through financial aid packages offered by the college. (Students receive additional aid from state, federal and other sources.) All MC students receive financial aid.
Comprehensive schools focus on a range of undergraduate degree programs in both liberal arts and professional fields. A total of 320 such colleges are ranked, divided into four regions. Last year, Manchester was 24th overall and 5th for Best Value in the Midwest.
U.S. News offers its ranking as a starting point for students and parents to judge on widely-accepted indicators of excellence. Students who inquire about Manchester, of course, will learn much more about the school.
MC faculty has a reputation for one-on-one attention and exciting challenges. A typical student gets lots of opportunities to participate, and stretch – in class, in conference athletics, international travel, business internships, campus organizations, faith and volunteering. For more about Manchester College, which offers more than 34 areas of study, visit www.manchester.edu Students can take a virtual tour and schedule campus visits online.
In addition to the magazine, its America's Best Colleges guidebook also hits newsstands Monday. The rankings are available on the U.S. News website at www.usnews.com