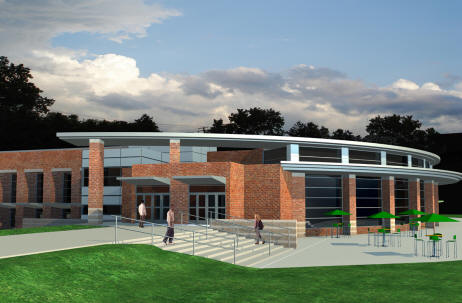 Manchester to dig into spring ground
for new College Union
with April 20 celebration
Manchester College digs into a new College Union on April 20, breaking ground on a $7.5 million transformation of the East Street structure and its role on the residential campus.
The new design is dramatic. Everything will change, including the size of the building and key areas. The College Union will be 80 percent larger, at 51,348 square feet, with room for a larger Campus Store, the bustle of student activities and organizations, Career Services, conference rooms, an art gallery and The Oaks coffeeshop.
The groundbreaking begins at 3:30 p.m. on Thursday, April 20, and everybody is invited to the celebration. As with other major construction projects of the $72 million Next Step! fund-raising campaign, the College is paying for the new union without debt. The general contractor is Michael Kinder & Son of Fort Wayne.
Construction is expected to take 18 months, with minimal disruption of campus life. When complete for fall 2007 classes and Homecoming, some key campus programs will have spacious, new homes in the center of it all.
Career Services and the Campus Store will move across campus into the Union and into daily flow of college life. Student activities offices and work areas also will come under the roof. Flexible meeting rooms upstairs will accommodate hundreds of meeting and conference-goers. Both floors will have an accessible elevator and restrooms. Chartwells, the College's food service, is a key donor for a new kitchen that is 80 percent larger, with three open cooking stations and a breakfast area.
The design by MSKTD & Associates of Fort Wayne enables students to continue to take their meals upstairs while construction of the new dining commons is under way on the first floor. After food service moves into its permanent place (with $600,000 in new equipment) on the first floor, construction will begin on the upstairs areas for Career Services and Student Activities and the meeting rooms.
Upstairs, meeting and dining rooms that contract or expand as needed, a secure, glassed front art gallery for visiting and campus exhibits, and offices will share the College Union with the community, alumni and visiting conferences. The rooms will serve up to 430 dining guests and scores more in meeting settings. All conference rooms will have technology to enable video conferencing and presentations.
The construction will not halt the upcoming summer conference schedule on campus. Conference Services will contact customers to relocate already scheduled 2006-2007 events in the Union. To contact Conference Services, call 260-982-5551 or 877-MC-GUEST.
Donor naming opportunities remain for the College Union. For more about giving to Manchester College projects and its endowment: 888-257-2586 or www.manchester.edu