Fund-raising quickens for "Main Street"
College Union for Manchester College
NORTH MANCHESTER, Ind. - Stimulated by the stereo construction sounds of a new Science Center on one side of the campus mall and a new recital hall on the other, Manchester College is hastening its pace toward a new College Union, too.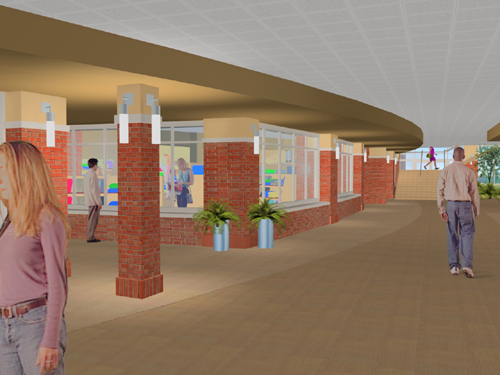 But that third groundbreaking is several million dollars away. "We're half-way there. We need about $3.3 million to reach our $6.5 million goal to begin construction," said Janine L. Fey, associate director of development and staff steward for the Union reconstruction. As with the two other debt-free construction projects, the 1,170-student Manchester College will not break ground on the new College Union until the money is in hand.
Reconstruction of a larger, friendlier College Union was put on the back burner as Manchester gathered resources for groundbreakings on the $17 million Science Center in November and the $1.2 million recital hall in March. Now it's time to bring the final project in The Next Step! fund-raising campaign to the forefront.
Currently, student activities are scattered all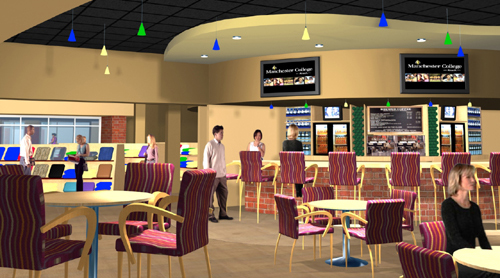 over campus, the bookstore is buried in a building far off the beaten path, and the College Union has frustrating accessibility problems. Student athletes on crutches and alumni with bum knees, for example, must use a freight elevator or "chance" the steps.
"It's just not an inviting place," said Jim Garber, chair of the College Union Fund-Raising Committee and former MC administrator. Garber, his wife Anne, and their four children are grads of the college.
The exciting solution? A virtual Main Street of "storefront" campus activities all under one roof, topped by 25 percent more dining and meeting capacity and a much larger kitchen to accommodate campus as well as community events and togetherness. Lots of accessibility, a coffeeshop/bookstore, an art gallery and study nooks will further enhance utility and friendliness of the two-story structure.

"The thought is to make the Union an exciting place to go, because there's all this great stuff there," said architect James Kratzat, owner MSKTD & Associates Inc. of Fort Wayne. Kratzat is savvy about Manchester College's needs: His firm also designed Manchester's Funderburg Library and its Physical Education and Recreation Center (PERC).
"To a large degree, most student activities will be moved into the new Union, including the bookstore," Garber said, noting the current campus store is in a basement on the opposite end of campus.
On one side of the Main Street (as wide as a real street) will be an entire area a-buzz with student activities, clubs and organizations around a common open worksite for poster-making and brainstorming. "There will be a lot of glass on the room fronts, so you can really see what is going on and it adds activity and excitement," said Kratzat. Also on the street will be an ever-present reminder of jobs to come and help at hand - the Office of Career Services. Across the "street," students will find a larger campus post office.
The Oaks coffee and snack shop will nestle alongside the campus store in an inviting "Border's" bookstore atmosphere.
The elevation of the two-story structure will change, to enable ground-level entry to a large grand stairway alongside an elevator to the upstairs cafeteria and meeting rooms and down to the "Main Street." Total square footage will be 48,580 square feet - almost 74 percent larger than the current College Union.
A focal point of the second floor will be an art gallery with a sliding glass entrance to securely display the fine arts achievements of students and faculty and visiting exhibits.
The new College Union will accommodate an audience of more than 500 upstairs, with adjustable rooms for smaller gatherings. Those arrangements will enhance conference opportunities for Manchester, which hosts more than 5,500 guests annually, from band camps to church conferences and community service clubs. Outside the meeting rooms will be comfortable areas for registering conference guests and nooks where students can hang out in lounge chairs to do homework or yak. Upstairs restrooms and large windows to the athletic fields also are in the plans.
The design of the new College Union will impact academic programs as well, said Jo Young Switzer, vice president and dean for academic affairs. "One of the best parts of an education at Manchester College is the fact that it happens in many different places - classrooms, professors' offices, and in casual conversations at lunch. The design of the renovated union will encourage interactions that enhance learning."
Manchester, a liberal arts Church of the Brethren college in North Manchester, Ind., offers 45 areas of study to students from 29 states and 33 countries. For more information about the college, visit www.manchester.edu