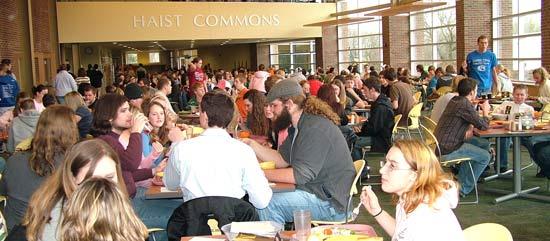 MC community finds its place
in the new College Union …
in Haist Commons, in cozy booths
and The Oaks, in myKitchen and the Campus Store
Manchester students returned from spring break this week to a new College Union. The roomy gathering center offers an all-new kitchen with tempting new menu options, a comfortable Oaks and an inviting dining commons. The Union also is the new home of Campus Store, mailroom and soon-to-be-completed coffee shop. The entire building is wireless, with scores of places to settle in and study, chat, read mail or conduct committee meetings.
First-year student Anna Harvey especially likes the studious environment of the new union, noting it is more intimate for conversations.
Students also are giving the food options and The Servery "two thumbs-up." Junior Jordan Walberry, said, "I used to eat pizza or a burger at every meal because I'm a picky eater. But now I think there are more options for picky eaters. I actually ate a complete meal today at lunch."
Contractors have moved upstairs to transform the former kitchen and dining areas and complete work on conference and meeting areas. The $7.5 million project is expected to be complete this summer, with a fall dedication planned.