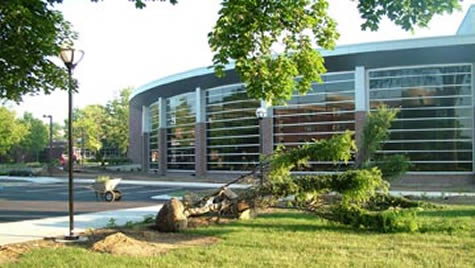 Almost here! A transformed
College Union … right on schedule
A cross-campus move begins July 23 as Manchester College prepares to assume full use of its all-new College Union. Right on schedule, an Aug. 1 completion is expected for the 18-month, $8 million project, said Chris Garber, associate vice president for financial affairs.
The College will dedicate its new space during Homecoming, with a 10 a.m. celebration on Saturday, Oct. 6.
"Everything is on-time," said Garber, as workers complete ceilings and carpeting for second-floor facilities designed for student academic support and conference services. Landscaping is well under way, although planting of larger grass areas may await more favorable fall weather, he said. Sidewalks and paving are done.
Last March, the campus and community embraced the first floor of the building – with its spacious dining Commons, Servery, Campus Store, The Oaks coffeeshop, booths and other conversation areas. Workers immediately moved upstairs, gutting the former kitchen and dining areas there.
The new upstairs will house a wealth of student achievement services – from the College's highly effective Career Services to a Success Center with its learning support of tutoring, counseling, mentoring, Writing Center and Honors Program.
Conference Services – bustling this summer with high school sports and music camps, church gatherings, conferences and workshops – also will move its headquarters into the new second floor. (The new conference rooms already are in use.) Soon, community meetings will be scheduled into the three fully equipped conference rooms that can be configured for a variety of activities and group sizes.
Also almost ready upstairs is a glass-enclosed art gallery. Its debut will feature the oil photo-realist landscapes of artist Philip Joseph, retired art professor of Miami University. The 1964 grad of the College also is a member of the Board of Trustees. The Joseph exhibit will go up in mid-August and continue through Homecoming.
The College Union, designed by MSKTD & Associates of Fort Wayne, is 80 percent larger, at 51,348 square feet, considerably overstepping the footprint of the original structure. Michael Kinder & Son of Fort Wayne is the general contractor.