$100,000 from Wal-Mart Foundation
will help Manchester identify,
keep first-generation students
Manchester College will use a $100,000 Wal-Mart College Success Award in a nationwide initiative to increase the number of first-generation college graduates. The northern Indiana liberal arts college already is deeply committed to the program: 25 percent of its graduates are the first in their families to receive a college degree.
Only 20 colleges nationwide will receive the grant; Manchester is the only Indiana college.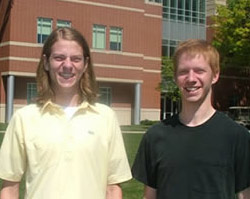 Kyle and Casey Jones
"Our first goal, and one that Wal-Mart shares and has generously funded, is to increase the number of first-generation students choosing college. A second is to increase the number who graduate from college. First-generation students and the State of Indiana both will benefit when we meet these goals," said David F. McFadden, executive vice president of the independent college.
Manchester College's plan:
Outreach and partner with area high schools to identify and prepare juniors to become first-generation college students
Help students successfully navigate their first semester of college
First-generation students often must find their own way to college. B. Casey Jones graduated in a class of 72 students from the very rural Tri-Central High School between Tipton and Kokomo.
"A program like this would have been hugely helpful,' said Jones. "My parents didn't go to college, so I didn't know what to do." He looked to his high school counselor and a cousin for advice, but he really did not know what to expect.
Jones, who received a bachelor's degree in art with a minor in biology from Manchester College in May 2007, was on campus this week to help his younger brother, Kyle, enroll. "I'll make sure he doesn't make the same mistakes I made," declared Jones as the pair headed off to the Science Center to meet one of Casey's faculty mentors.
With the two-year grant, Manchester will build immediately upon its already successful recruiting and retention programs. The College will identify and match potential first-generation candidates at area high schools to Manchester College students and mentors, said Glenn R. Sharfman, vice president and dean for academic affairs. Students will attend overnight workshops to learn how to prepare and apply for college, and what to expect. The College will work with high school guidance counselors.
"We want to reach students before it's too late," said Sharfman. "We want to take talented students who don't have a clue about the college search and help them with their resume, their essay and tests. We hope to get them ready for college and keep them there."
Manchester already supports its first-year students through an enormously popular Success Center that brings together faculty, counselors, health services, mentoring, tutoring, writing help and study tables for all students – strugglers as well as honor students.
Wal-Mart College Success Awards are administered by the Council of Independent Colleges and made possible by a generous grant from the Wal-Mart Foundation. Tamara O'Hearn, Writing Center director and assistant professor of English, authored the College's grant request.
Manchester College offers more than 55 areas of study to about 1,100 students on a residential campus. Read more about the College at www.manchester.edu.