Register online or call 260-982-5421 now!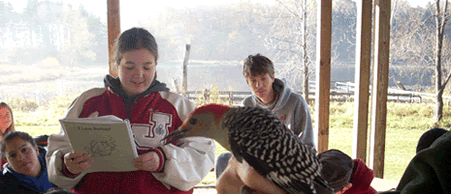 Manchester College students band birds for Koinonia biology class.
Area youngsters, parents will discover nature up close (real close) on Oct. 17 Wandering the Wonders of Science
Youngsters will engage in close investigation of nature, and witness the bark side of science for Manchester College's 2009 edition of Wandering the Wonders of Science on Saturday, Oct. 17.
This year, the 3rd, 4th and 5th-graders (and their parents) will take over the College's sprawling 100-acre Koinonia Environmental and Retreat Center about 12 miles north of campus. The adventure – structured for fun and to meld with local school curriculums – is free for all area families.
With magnifying glasses, some will investigate mounted insects up close, then will poke about the grounds to observe the habitats and catch live flying and crawling critters. Others will search out bird nestings in the woods, prairie and lake. They'll try to use nature's items to craft a nest … and soon will discover humans are not designed to make bird beds.
The event is 9:30 to 11:30 a.m., but families will want to linger afterward to enjoy Koinonia and its fabulous trails, nature exhibits, prairie and lake.
Children and their families will begin the day in 10 themed groups, reading a very short nature book together. Themes range from trees, footprints, forests and water to birds and insects.
While the children are investigating nature, their parents will participate in their own workshop. "We will empower parents to wander science with their children, to continue the discoveries they make at Koinonia at home," said Stetzel. Parents will learn how they can enhance at home what their children are learning in school.
"As educators, we need to keep the curiosity about our natural world alive in children so that they develop a life-long approach to respecting it," said Stacy S. Stetzel, instructor of education at Manchester College, where 225 students are preparing for careers as teachers.
Manchester's elementary teacher candidates are creating science trails and take-home webquests for Wandering the Wonders of Science, aligning 10 themes and goals with Indiana Academic Standards. "The opportunity to develop curriculum and implement it is an important step in teacher training," said Stetzel.
While parents may register their children on the morning of the event, the College appreciates advance registrations: 260-982-5421 or click on the Wandering the Wonders of Science news link on the home page, at www.manchester.edu. Parents and guardians will be asked to sign release forms for their children.
The College appreciates The Community Foundation of Wabash County for underwriting the event, and also support from Kappa Kappa Kappa philanthropic organization.
Koinonia is on Kosciusko County Road 650 S, east of Indiana 13, about 4 miles south of Pierceton and U.S. 30 or about 12 miles north of North Manchester. Signs on Indiana 13 point the way. The center has restrooms, a nature center, shelter, overnight retreat facilities, and handicap- accessible trails. For more about Koinonia Environmental and Retreat Center, click here.
Here's the schedule for the day:
9:30 a.m. Welcome
9:40 a.m. Theme group book readings
9:50 a.m. Science trail
10:50 a.m. Tours of Koinonia, games, refreshments, families are invited to further explore Koinonia
September 2009