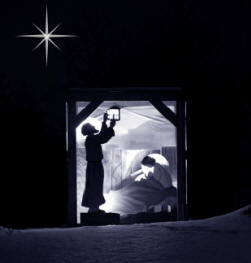 Manchester's choirs and ministry present
Christmas lessons and music Dec. 8
For the Christmas season, Manchester College unites its three choral ensembles with campus ministry for A Ceremony of Lessons and Carols. The reverent gathering on Friday, Dec. 8 will spotlight Biblical readings, sacred music and congregational hymns, said Dr. Debra Lynn, conductor of the 53-member A Cappella Choir.
The Cordier Auditorium curtain rises at 7:30 p.m., with a free-will offering in support of the choir's Carnegie Hall performance in spring 2007. Reservations are not necessary.
Juniors Anna Grady and Melissa Heffner of Campus Ministry will guide the audience through the Nativity lesson with readings from Isaiah, Luke, Matthew and The Cross in the Manger by Ann Weems.
The all-women Cantabile will perform Ave Maria and Star of Wonder, under the direction of music lecturer Alan Chambers, who also will conduct the 18-member Chamber Singers in Like a Rose and E'en So, Lord Jesus, Quickly Come.
The ensembles will combine with the A Cappella Choir throughout the evening, at the baton of Dr. Lynn, associate professor of music. A Cappella music includes Matin Responsory with cantor Joel Waggy, Hodie Christus natus est, Tomorrow Shall Be My Dancing Day, Down in Yon Forest with soloists David Moan and Michael Spaulding, and Ye Shall Have A Song. Seniors Andrew Haff and Andrew Leavens and junior Andrew Suhre also will solo.
Familiar congregational hymns also are on the program. Accompanists are Robin Gratz on the 46-rank organ and Michael Good on piano.