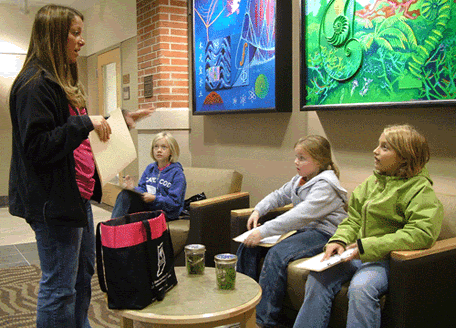 Area children invited to wander
the wonders of science
at Manchester College day camp Oct. 4
Science is fun. That's the message for children throughout the area at another action-packed Wandering in the Wonders of Science day camp at Manchester College on Oct. 4. Third- fourth- and fifth-graders are invited to the free Saturday morning event, led by elementary education students and education and science faculty at the College.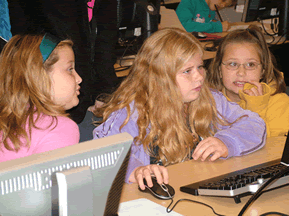 The children will take over the Science Center and campus for hands-on experiments with birds, bees, photosynthesis, spiders, moles, rocks and minerals, the weather, frogs, the sun … even earthworms. Science trails, team-building, readings, interactive demonstrations and web quests will fill the morning, beginning at 9 a.m.
On one of the many "trails" to science, senior elementary education major Jeff Mendenhall of Richmond, Ind., will lead children onto Gratz Field to measure the speed of their pitches and discover a children's book on baseball. After traveling most of the "trails," the children will embark on web quests about their science studies.
The Community Foundation of Wabash County has provided a grant to help provide participants with backpacks, books and magnifying glasses and other science materials.
"We hope the children will take what we do at Wonders of Science home and do their own investigating," said Stacy Stetzel, instructor of education and founder of the science day camp at Manchester College. "Wonders of Science provides what the kids are going to be learning this year in their classroom. We're just priming their interest by providing an enriching atmosphere to do science: outside, on a Saturday with fun and games attached."
To register your children or classes for the 2008 Wandering in the Wonders of Science, contact Stacy Stetzel at ssstetzel@manchester.edu. Registration deadline is Oct. 1. The program meets state academic standards for the three grade levels.