MC to host outspoken Russian poet,
filmmaker, politician Yevtushenko
Internationally known Russian Yevgeny Yevtushenko, "the voice of the voiceless," will read and discuss his poetry and discuss his film Stalin's Funeral on Wednesday, Nov. 10 at Manchester College. The public is invited to both conversations, which are free.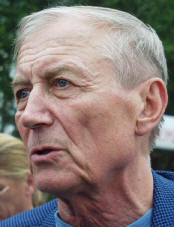 Yevtushenko has been the poet for repressed peoples of his native Russia and repressed people everywhere. His . Perhaps his most famous poem, "Babi Yar," condemns Nazi and Russian anti-Semitism. More recently he writes about the murder of Russian school children of Beslan and Chechen violence that was born of Stalin's repression of Chechnya years ago. In the States, Yevtushenko has taught as a visiting professor at the University of Oklahoma, University of Tulsa, Yale, University of Chicago, Carleton College, Queens College and other universities.
In "Poetics and Politics" at 11 a.m. in the Upper Union Lounge, Yevtushenko will offer a poetry reading and discussion.
Stalin's Funeral, which Yevtushenko wrote and directed at the urging of novelist John Steinbeck, will be shown at 3 p.m. in Wampler Auditorium, followed by discussion. The movie is a somewhat historical account of the macabre scene in 1953 when thousands of angry protesters charged Joseph Stalin's funeral cortege, trampling attendants and an innocent woman, some to death.
Yevtushenko comes to Manchester College as a guest of Plowshares, a Lilly Endowment-funded collaboration of Indiana's three historic peace campuses, Manchester, Earlham and Goshen colleges. He also will speak at the Plowshares Peace House residency peace studies program in Indianapolis at 7:30 p.m., Tuesday, Nov. 9. For more about the Plowshares program, visit www.plowsharesproject.org