"Alternative" historian, activist
Howard Zinn coming to MC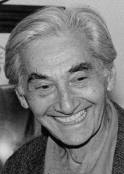 America's alternative historian, Howard Zinn, will speak about history that embraces humanity at Manchester College. The public is welcome to hear his talk, sponsored by the Plowshares peace studies consortium, at 7 p.m. on Wednesday, Sept. 29 in Cordier Auditorium on campus. Admission is free.
Zinn, author of numerous books and plays, is a passionate activist for radical change. His classic, A People's History of the United States, has sold into more than 25 printings and is widely used in college and university classrooms. Whether his subject is war, race, politics, economic justice or history itself, Zinn speaks and writes with clarity and humor. His recent books include You Can't be Neutral on a Moving Train: A Personal History of Our Times, The Zinn Reader and the plays Marx in Soho and Emma.
"As a historian, theorist and activist, Howard Zinn has earned great respect and admiration among progressives for his consistent message of humanity and hope," said Manchester political science Professor Leonard A. Williams. "His visit will certainly make a significant contribution to Manchester's continuing dialogue about important public issues."
Zinn was a World War II bomber pilot, an experience that shaped his view of history, and taught at Spellman College, a historically black college in Georgia that educated numerous civil rights leaders. Retired from teaching at Boston College, Zinn writes and speaks about the human side of history and elevates the untold side of history to its rightful place, celebrating the American spirit of equality, freedom and compassion.
The Plowshares grant to strengthen peace studies has underwritten the visit of Howard Zinn at Manchester. Plowshares, a consortium of Indiana's three historic peace colleges – Manchester, Goshen and Earlham colleges, is funded by Lilly Endowment Inc.
Manchester, a Church of the Brethren college, has about 1,100 students enrolled in 45 academic programs in North Manchester, Ind. For more information about the college, visit www.manchester.edu