Meet the artist! 7 to 9 p.m., Friday, Feb. 12, Link Gallery
Link Gallery: 8 a.m. to 8 p.m. daily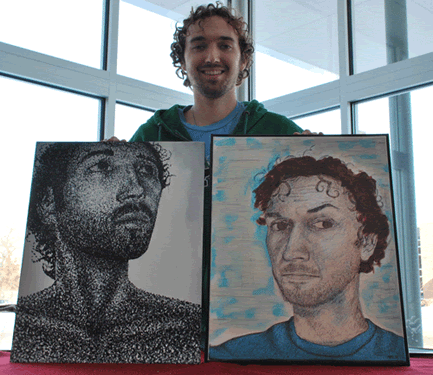 Student artist draws from precision of science
for his senior show at Manchester College
The latest senior art exhibition in Link Gallery belies the inexperience of Austin Blomeke, who entered Manchester College as biology major. The exhibit of drawings, acrylic paintings and three-dimensional pieces (including a massive sculpture of the middle Eel River watershed) has opened in the Wine Recital Hall gallery on the east side of campus.
The free exhibit continues through March 15, with a reception 7 to 9 p.m. Friday, Feb. 12. The gallery is open 8 a.m. to 8 p.m. daily when classes are in session.
Blomeke, a Kendallville native, didn't pick up a paintbrush at Manchester until his junior year, when he switched majors. He enjoys experimenting with a variety of media and techniques, his science background influencing his preference for precision. "The element of line dominates many of my drawings," he notes.
Blomeke also serves as an art gallery docent for Manchester College. "I cannot imagine my life without art in it," says Blomeke, who plans to pursue a graduate degree in landscape architecture. "Much of the time, making art is stressful and requires a great amount of work, but it is also extremely rewarding."
For more about art at Manchester College, visit here.
February 2010