3:30 p.m., Tuesday, Feb. 19
Multimedia concert brings Bach
to life at Manchester on Feb. 19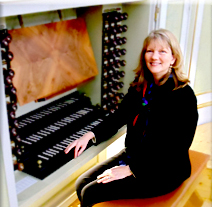 Manchester University presents a multimedia organ concert celebrating the life and music of Johann Sebastian Bach and his sons on Tuesday, Feb. 19. The free concert by international organist Dr. Jeannine Jordan begins at 3:30 p.m. in Cordier Auditorium on the North Manchester campus. Reservations are not necessary.

Bach and Sons "involves hearing the music of Bach and his three sons, seeing the women in their lives while they narrate the story and following the live cameras while I play their great music. It's truly riveting," says Jordan, who will perform on MU's 45-rank pipe organ.

Sharing the MU performance is her media-artist husband, David Jordan, who has created a continuously changing backdrop of visuals to give insight into Bach's life and his music. In addition, live camera feeds will give each member of the audience the front-row thrill of watching the organist's feet and hands.

A worldwide performer, Dr. Jordan has a doctorate in organ performance and music history from the University of Oregon. For more about the Jordans, visit promotionmusic.org.

February 2013