State association honors Professor Gilliar
as its 2010 Teacher/Scholar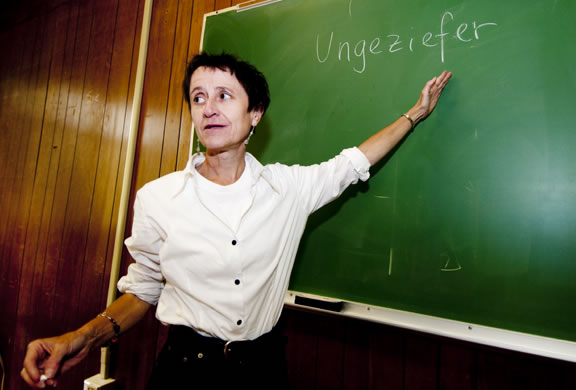 Manchester College English Professor Beate Gilliar is "the model of the ideal teacher/scholar," says the Indiana College English Association, which has honored her as its 2010 Teacher/Scholar.
"She is always there for her colleagues and students and always thinking through the impact of what she is teaching and how she can help students tell their own individual stories," a Manchester colleague told the association in nominating Gilliar, who chairs the Department of English.
At Manchester, Gilliar's courses include Teaching English to Speakers of Other Languages (TESOL), composition, writing, literary studies, literary criticism, African American literature, contemporary literature and expository writing for business and accounting majors.
"Beaté brings a passion for both students and literature that is infectious," said Glenn Sharfman, vice president and dean for academic affairs."She is the kind of faculty member that students remember long after they have left her classroom because of her creativity, caring and creative approaches. No one works harder on behalf of her students than Beate Gilliar."
Gilliar, a native of Germany, joined the Manchester College faculty in 1993. Her Ph.D. from the University of Arizona is in rhetoric, composition and the teaching of English, with a literature emphasis in American romanticism. Her scholarly work includes translation of Edith Stein by Arthur Giron from English into German and the patriotism rhetoric of German newspapers. She has received numerous research and writing grants.
Her book, The Rhetoric of (Re)Unification: Constructing Identity through East and West German Newspapers (in Berkeley Insights in Linguistics and Semiotics by Peter Lang) is available on Amazon.com.
Gilliar has been published in a number of academic journals and anthologies and is often a lecturer at conferences and seminars. She conducts writing retreats in libraries and bookstores for writers of all ages. During summers, she participates in workshops in southern Germany and teaches at Albert-Ludwigs Universität in Freiburg, Germany.
At the Indiana College English Association annual conference this fall that honored Gilliar, three MC English majors presented for a session on Performance, Print and Pop Culture moderated by Stacy Erickson, MC assistant professor of English: Sarah Plew, Concluding Measure for Measure; Katie Majke, To Judge a Book by its Slings and Arrows; and Linsey Shannon, Ubiquitous Shakespeare: Taming of the Shrew and How to Lose a Guy in 10 Days.
The Indiana College English Association is associated with the national College English Association. To Learn more about English at Manchester, visit www.manchester.edu
November 2010