Memorial service Friday, March 27
1:30 p.m., Cordier Auditorium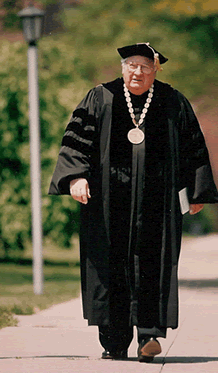 President Emeritus
A. Blair Helman dies:
"Manchester will
always feel
his influence."
Dr. A Blair Helman, pivotal president of Manchester College for 30 years, died Sunday, March 22 at Timbercrest Retirement Community. He was 88.
A memorial service for Dr. Helman is set for 1:30 p.m. this Friday, March 27 in Cordier Auditorium, on the north side of campus. A reception will follow the service, in Cordier lobby. A private interment will precede the campus service. DeLaughter-McKee Mortuary Inc. in North Manchester is handling arrangements.
"President Helman's leadership reflected his keen intellect, deep faith, and enduring love for Manchester College," said Manchester College President Jo Young Switzer.
"The entire Manchester College community continues to walk in his footsteps: his commitments to faith, learning, and service; a broad world view; financial integrity; and educational strength. Manchester College will always feel his influence."
With President Helman's leadership from 1956 to 1986, the College's academic program, campus, financial foundation and lifelong relationships thrived.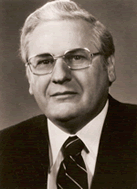 Physically, the College campus changed dramatically, with the addition of new residence halls and Funderburg Library, a physical education and recreation center, observatory, classroom buildings, auditorium, nine-lane track and a maintenance center. Petersime Chapel was constructed at the heart of campus, anchoring the mall. A total of 16 buildings were added to campus, and three older structures removed. The campus also doubled in size, with the acquisition of Koinonia Environmental Center.
Acknowledged as a national and state leader in higher education and in the Church of the Brethren, Helman did not rest on his laurels. "The great days at Manchester College are not in the past or the present; but, the great days of Manchester College are in the future," he declared.
An ordained minister in the Church of the Brethren, Dr. Helman served on key boards and committees and as annual conference moderator for 1975-76, the highest elective office in the denomination. The Church of the Brethren, with its deep roots in peace and justice and international consciousness, provided a foundation for the Helman years.
Cordier Auditorium, constructed on the north end of the College mall during Helman's service, honors 1922 Manchester graduate Andrew Cordier, who helped define the College's global emphasis, and, as executive assistant to the U.N. Secretary-General, helped draft the United Nations Charter.
President Helman also provided cooperative leadership for Brethren Colleges Abroad, giving students of Brethren colleges study opportunities in Spain, China, Germany, England and France. The College also became a founding member of the Indiana Consortium for International Programs.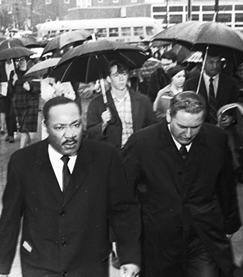 While many famous people found their way to campus during his tenure, from Eleanor Roosevelt to Dave Brubeck and Ralph Nader, Helman is most known for hosting Dr. Martin Luther King Jr. on Feb. 1, 1968. The civil rights leader's controversial appearance in North Manchester would be his last campus address before his death.
Dr. Helman served in leadership roles for state and national education councils, including on the Commission on Arms Control Education for the United Nations. He provided leadership in the establishment of the Associated Colleges of Indiana and the Independent Colleges of Indiana. He served as national chair of the Council of Protestant Colleges and Universities, and as president of the Indiana Conference of Higher Education.
In nominating Dr. Helman for the University of Kansas Distinguished Service Citation, the Rev. Theodore M. Hesburgh, president emeritus of the University of Notre Dame, had high praise for his good friend: "Blair is a first-rate human being, fine educator, and a person of high moral principles. … He gave great leadership among his peers."
Dr. Helman held honorary doctorates from Manchester College, Indiana University, Bridgewater College, McPherson College and Juniata College. Other major honors included the Sagamore of the Wabash from Indiana Gov. Otis R. Bowen, induction into the Indiana Academy, Dedicated Service Award of the Indiana Conference of Higher Education, Paul Harris Fellow of Rotary International and Legion of Honor Award of Kiwanis International.
After high school, the studious young Blair Helman worked in a coal mine to help support his family and his college plans. He retained his mining tools and hard hat throughout his life. After Bethany Bible Training School in Chicago, he completed his bachelor's degree magna cum laude at McPherson College in Kansas, where he met his bride, Pat Kennedy. He earned his master's degree and Ph.D. from the University of Kansas, pastoring at three Church of the Brethren congregations in Kansas.
Patricia Kennedy Helman died in October 2005, after 58 years of marriage. Dr. Helman is survived by two daughters, Bunny Hill of Wichita, Kan.; and Patty Magaro (a 1974 graduate of the College) of Columbus, Ind., five grandchildren and three siblings.
The A. Blair Helman Hall is home for 129 students on the southwest corner of the Manchester College campus.
Presidential Leadership Awards at Manchester College were established with a $1 million endowment donation in the Helmans' honor by Howard S. and Myra Bates Brembeck of Goshen. The scholarships go to students who demonstrate the promise of making outstanding contributions to the nation and the world.
Memorials may be made to Manchester College Presidential Leadership Awards/A. Blair and Patricia K. Helman Honor Scholarships and to The A. Blair and Patricia Kennedy Helman Charitable Endowment, in care of the Community Foundation of Wabash County.
March 2009