Manchester social work graduate
Brittany Betz receives top state honor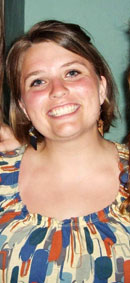 She developed a senior center in an urban Chicago medical center, raised more than $20,000 in grants for the Wabash County Council on Aging and dedicated her service from Colorado to Costa Rica, all while maintaining a 4.0 GPA.
For her extensive selfless service to others, Manchester College spring graduate Brittany Betz is "2011 BSW Student of the Year" of the Indiana Chapter of the National Association of Social Workers.

Betz, of North Liberty, Ind., graduated summa cum laude in May with a bachelor's degree in social work (BSW) and a minor in gerontology. Not only did she do service internationally during her four years at Manchester, she also made an impact on her college and community. She participated in an intergenerational communication research project at Peabody Retirement Center in North Manchester. As president of the campus Social Service Club, Betz brought creative service opportunities and enthusiasm to her role, say proud faculty members.

Her Manchester College baccalaureate work was graduate level, distinguished by her strong classroom questions. "She never took a class for a grade, but for the sake of learning," says Cheri Krueckeberg, associate professor of social work and gerontology program director.

Betz is quick to thank her faculty mentors "for your continued support in all of my endeavors, for giving me the tools to succeed, and for always pushing me to go a little further." She's already immersed in her career, as a case manager for Oaklawn Mental Health Services of South Bend, working with adults with mental illnesses.
July 2011