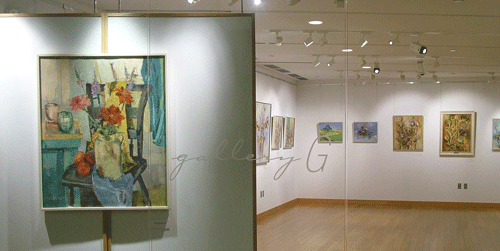 Manchester College features acrylic
artist Ruth "Bunny" Baldwin in Gallery G
Manchester College presents a tribute to painter Ruth "Bunny" Baldwin in its Gallery G through Feb. 21.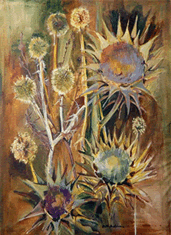 Most of the paintings in the exhibition – Baldwin's second at the College – are acrylics, including Sunflower and Thistle, which is a part of the Manchester College Art Collection, regularly on display in Cordier Auditorium.
"The marvelous thing about Bunny's acrylics is that they look like acrylic paintings," said Professor James R.C. Adams, who met her when he was studying for his master's degree in fine arts at Instituto Allende in Mexico in 1951.
"Bunny combines washes, drawing and opaque paint in a way that is unique to acrylic. Any aspiring painter wishing to work with acrylics would do well to study Bunny's work."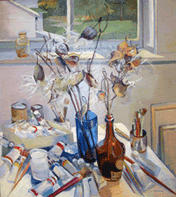 "I am interested in being emotionally affected by what I am seeing, and I would like to affect others in the same way," says the 99-year-old Baldwin of her lifetime of paintings. Her most recent painting is entitled In My Studio.
Born in Pennsylvania in 1910, Baldwin studied at the Philadelphia College of Art; the National Art School in Washington, D.C.; and the Institutos Politecnico and Allende in Mexico. Her diverse career paths include as Navy Artist and as an illustrator for Ford Magazine.
She taught painting at Ohio University and has exhibited often, in Mexico, and across the United States, from Texas to the Corcoran Gallery in Washington, D.C., and at many places in Ohio.
Gallery G hours are 8 a.m. to 5 p.m. weekdays, during College special events and by appointment (260-982-5334). Gallery G is in the upper College Union, on East Street on the east edge of the North Manchester Campus. Many of Baldwin's paintings are for sale; see information in Gallery G.
December 2008