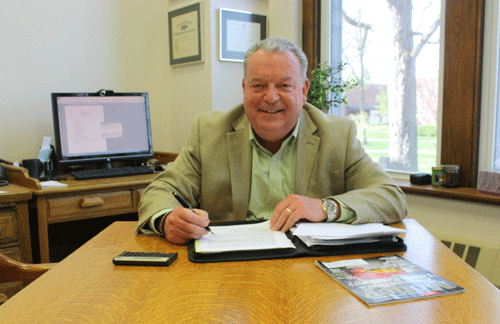 Manchester University CFO among top
in state: Indianapolis Business Journal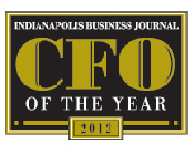 The Indianapolis Business Journal has selected Jack Gochenaur as a 2012 CFO of the Year honoree for his excellence as a financial steward of Manchester University. Gochenaur, vice president for finance and treasurer for the 1,345-student independent school, is in the Top 3 in the newspaper's not-for-profit category. Indianapolis Business Journal profiles him on its website and in a supplement to its Dec. 3 issue.
An IBJ committee selected Gochenaur "from hundreds of impressive individuals nominated by our readers," the newspaper said.
In the past year at Manchester, Gochenaur has strengthened the institution's finances, helped increase enrollment, overseen construction of a $9.1 million Academic Center on the North Manchester campus and mapped the financial plan for a $19 million Fort Wayne campus and new College of Pharmacy. The Academic Center and Fort Wayne campus both were constructed and opened within one year – on budget and on schedule for fall 2012 classes.
"Today's successful CFO has a scope of responsibilities much broader than the traditional duties of accounting, financial reporting, budgeting and capital financing," said Greg Morris, president and publisher of IBJ Corp. " In today's business environment, a successful CFO assumes an integral role in operational and strategic leadership."
Indiana Business Journal looked to Gochenaur's achievements in the University's 2011-2012 fiscal year in its selection of the 1970 Manchester accounting graduate.
"Jack Gochenaur is that rare financial manager who combines big picture strategic thinking with careful attention to detail – all while bringing out the best in other people," said MU President Jo Young Switzer. "His visionary leadership, collaborative style and impeccable integrity have earned Jack the respect of the Manchester University community and his peers across Indiana."
"What makes Gochenaur's achievements for Manchester so remarkable is that they occurred against the headwind of the worst financial downturn since the Great Depression," said Trustee Chuck Winger, retired vice president of Cinergy Corp.
"Our trustees' confidence in Jack's wisdom and credibility gave them the courage to launch Pharmacy," said longtime Trustee Ken Metzger, retired co-owner and president of Herbert E. Orr Co., Inc.
Other Jack Gochenaur leadership successes in 2012:
Refinancing MU's debt into a new tax-exempt bond, taking advantage of excellent rates today

Focusing on affordability for MU students, those enrolled and those who may choose Manchester

Managing the MU endowment amid significant fluctuation of investment markets

Leveraging MU resources to maximize their usefulness and stewardship

Supporting the financial needs of many MU students as average state aid decreases, as well as expected family contribution for their student's support



Gochenaur, a resident of Columbia City, Ind., joined his alma mater's leadership team about nine years ago. He has a straightforward philosophy: "I want to live my life with integrity and character, coaching and mentoring where ever possible. I want to role model those character traits in my personal life and my work life. I desire to be a good steward of what has been entrusted to me. I want to have fun and enjoy the people I work with and the job I have. I am a blessed man. " Gochenaur and Dianna, his wife of 45 years, have three children and six grandchildren.
Indianapolis Business Journal also honored CFOs of the Year for Indiana public and private companies. For more about the awards, and a profile on Gochenaur, visit the IBJ website at www.ibj.com/cfo-2012. Its top honoree in the not-for-profit category is Kay Whitaker of Central Indiana Community Foundation.
Manchester University with 1,345 students in undergraduate, master's and professional doctoral programs, posted 2011 revenues of $71.8 million. For more about MU, visit its website at www.manchester.edu.
November 2012