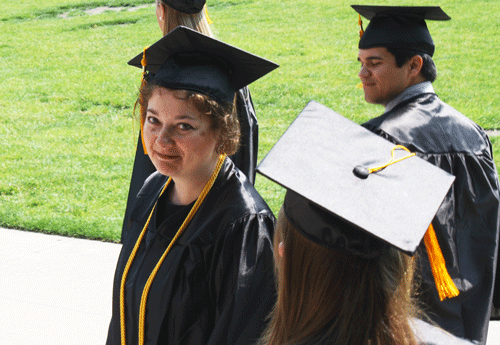 A bachelor's degree is among MU's employee benefits for Melissa Grinstead,
Manchester's director of advancement services.
Respect is a Manchester workplace
benefit, say faculty, staff
and Chronicle of Higher Education
At great colleges like Manchester University, respect is a crucial benefit, says The Chronicle of Higher Education in announcing its "Honor Roll of 2012 Great Colleges to Work For." For the third-straight year, the leading source of news about colleges and universities is putting Manchester on a pedestal.
Only 42 made the "Honor Roll" out of 292 colleges and universities considered nationwide. This year, Manchester also ranks in the Top 10 of all small colleges and universities.
The Chronicle says Manchester University is a "Great College to Work For" because of nine qualities:


Teaching environment

Job satisfaction

Respect and appreciation

Confidence in senior leadership

Work/life balance

Professional/career development programs

Supervisor/department chair relationship

Tenure clarity and process

Collaborative governance



Only two other small colleges and universities were honored in more categories.
"Open channels of communication, along with concrete ways of appreciating employees and helping them balance work and home, are hallmarks of great academic workplaces," says The Chronicle in a feature about respect in the workplace.


"If staff members have to take, say, a month off for health problems, supervisors are flexible, and colleagues volunteer to cover the responsibilities," The Chronicle learned in its survey of MU faculty and exempt employees. "(Manchester) also sets aside money for employees who want to take classes or earn a certificate," the publication added.

"I completed my degree over 18 years while working full time at Manchester," said Melissa Grinstead, director of advancement services. Her education was tuition-free. The mother of two youngsters graduated with honors last spring, with a bachelor's degree in financial accounting. "The support I received from the faculty, my coworkers and the administration to balance work with school and family was the continual encouragement I needed to press onward and realize my dream."

The "Honor Roll" of 42 colleges and universities is based on a nationwide survey of more than 46,000 faculty, administrators and professional support staff at 294 institutions, plus demographics and workplace policies of those institutions. Employee feedback was the primary factor for recognition. For more about the survey, visit The Chronicle online.
"It's easier to be a great workplace during good times, but it's when times are tough that the commitment to workplace quality really gets tested," said Richard K. Boyer, principal and managing partner of ModernThink LLC, a research and consulting firm on workplace issues. "Those institutions that measure up during times of economic hardship reinforce their already strong cultures and put even more distance between them and their peer institutions for whom they compete for talent."

For more about Manchester University, visit www.manchester.edu.
August 2012