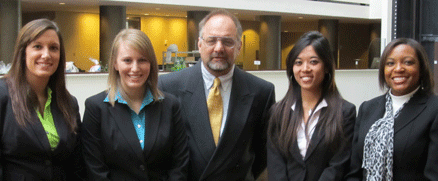 From left: Erin Puckett, Ashley McGovern, Brad Pyrah,
Pooja Shrestha and Traci Fuqua
CPA team's brain-drain solution
takes third at state contest

Five of the seven senior partners are nearing retirement in a CPA firm. How do you keep valuable clients from leaving, too? The firm is fictitious but the challenge is very real for CPA firms today.

A solution proposed by four senior Manchester College accounting majors – capture the retiring partners' experience with a knowledge management system – also captured third place at the Indiana CPA Society's annual Case Study Competition.

Returning home, each $500 richer: Traci Fuqua of Indianapolis; Ashley McGovern of Niles, Mich.; team captain Erin Puckett of Rochester, Ind.; and Pooja Shrestha of Kathmandu, Nepal. McGovern, Puckett and Shrestha also are finance majors.

Teams had only 10 days to do the research and write a 50-page document containing almost 138 citations. As one of six finalists, Manchester then had to prepare a 17-minute oral presentation for the Nov. 19 competition in Indianapolis. "We worked hard on our plan," said Fuqua, who also has a minor in economics. "The team spent up to 12 hours a day working on it."

In a way, Manchester also won the competition: First place went to Saint Mary's College of Notre Dame, coached by department chair and Professor Mary Ann Merryman, a 1976 Manchester graduate and member of the MC Board of Trustees.

Valparaiso was second. Manchester topped Butler University, Indiana University and Indiana University-Purdue University Indianapolis, who received honorable mention. Teams from 13 Indiana colleges and universities with accounting departments competed.

The Manchester team used new software to dynamically demonstrate how it would digitally capture knowledge of the CPA partners that then would be available for use by remaining partners. "The presentation was flawless," said Brad Pyrah, associate professor of accounting and team faculty advisor. "It was the best performance they'd had, including all of the practices. They did a fantastic job."

More than 295 students are majoring in accounting, business, finance or marketing at Manchester, which has a reputation for high scores on the CPA exam and high job placement. For more about accounting at Manchester, visit www.manchester.edu.

November 2011