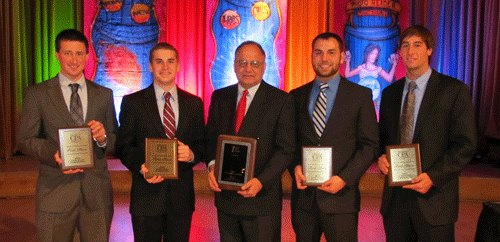 From left: Tom Blake, Ben Crim, Associate Professor
Brad Pyrah, Ben Ellam and Dan Maringer
Considering an acquisition?
Hire these Manchester seniors!

You are advising the CFO of a wood furniture manufacturing company that is eying a $10 million acquisition of a hardwood flooring manufacturer. Is that feasible for this family company that shares ownership with its employees?

Four Manchester University senior accounting majors know exactly what to do, according to the Indiana CPA Society. Manchester's team won first place at the Society's annual Case Study Competition – and $750 each.

The victors, following oral presentations Nov. 16 in Indianapolis: Thomas Blake of Plymouth, Ind.; Benjamin Crim of Dayton, Ohio; Ben Ellam of Granger, Ind.; and Dan Maringer of Fort Wayne, Ind.

Their conclusion, presented as a CPA consulting firm to the board of directors of the fictitious furniture company: It's a good acquisition, but at $9.2 million.

Once they learned the topic, the four had 10 days to do their research and write a 50-page recommendation. As a finalist, Manchester made an 18-minute oral presentation in Indianapolis on Friday. "This contest was difficult because we didn't know anything about the company we were acquiring," said faculty advisor Brad Pyrah, associate professor of accounting and business. "They only had information about the furniture manufacturer." The team created financial statements and other corporate documentation (and even a name) for the flooring company and then analyzed their own statements.

"We won this competition because we worked really well as a team," said Ben Ellam, who will complete Manchester's 150-hour CPA program next fall, just in time for the tax season.

"The Manchester University Accounting and Business program did an excellent job at preparing us for a competition like this," said Ben Crim, who will join the audit team of the Indianapolis CPA firm Katz, Sapper & Miller next October. "The competition gave us the opportunity to demonstrate and apply the knowledge that we have gained over the past four years and this award demonstrates that our professors and program are among the best."

"The entire faculty in the Accounting and Business Department offered us great support and encouragement throughout the entire competition," said Tom Blake, who starts his career next summer in Mishawaka, Ind., as a staff accountant for Umbaugh and Associates, which provides financial advisory services for governmental units, utilities and schools. "It was a great experience," said Dan Maringer, who will intern this summer with BKD LLP accounting firm in Fort Wayne, Ind.

Manchester is a familiar team to Indiana CPA Society judges, often finishing in the top three. This is their first win. MU also has pride in the second- place team, defending champion Saint Mary's College of Notre Dame. Their faculty advisor is Professor Mary Ann Merryman, chair of the Department of Business Administration and Economics. She's also a 1976 Manchester graduate and member of the MU Board of Trustees.

More than 265 students are majoring in accounting, business, finance, management or marketing at Manchester, which has a reputation for high job placement. For more about preparing for accounting and business careers at Manchester, visit www.manchester.edu.

November 2012