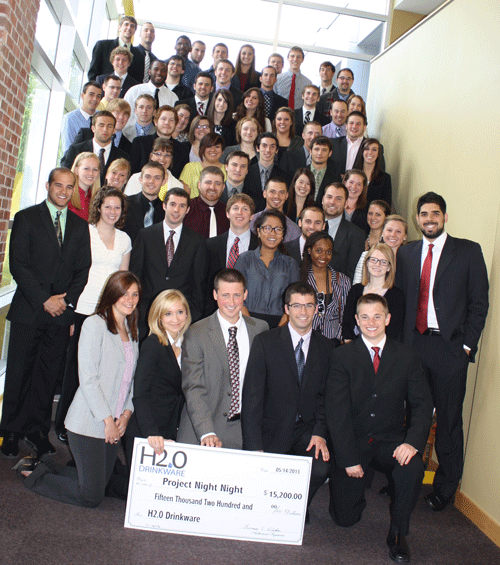 MU business students raise $15,536
and visibility for homeless children cause
A nonprofit organization created by a Manchester University business class has raised $15,356 and visibility about the growing number of homeless children. It's a rite of spring semester at Manchester: seniors in Case Studies in Business class set up a company and deliver their profits to charity.

The class company, H2.0 Drinkware, sold 1,121 water bottles to benefit Project Night Night, a national nonprofit that annually provides 25,000 night-time care packages for homeless children, reported company President Angelika Konik of Des Plaines, Ill.

"What your class has accomplished is remarkable. We will be able to reach more than 800 families in your community," said Jessica Silverman Bryan, deputy director of Project Night Night, in accepting the check during a Skype conversation with the class Tuesday.

Four area shelters for the homeless selected by the class will receive the Project Night Night care packages: Huntington House, and Vincent Village, The Rescue Mission and Interfaith Hospitality Network in Fort Wayne.

Each Night Night care package includes a "security" blanket, stuffed animal and book to help alleviate the trauma of homelessness. Bryan said one in 50 children will experience homelessness during their lifetimes, adding that often that situation is unseen. More information about Project Night Night is at projectnightnight.org.

The class project was not your average fundraiser. Annually each spring, Case Studies in Business class is organized just like a business, with an executive board and marketing, finance, human resources and operations teams. The 63 students in this year's class also completed 646 hours of community service, including an April 27 carnival for kids in Warvel Park in North Manchester for about 100 children.

Zeth Baker '13, vice president of operations, and other H2.0 officials discussed the successes and real-world lessons learned. Online sales of the unique water bottles that were just coming onto the market were greater than anticipated (customers from 11 states), leading to distribution challenges. "We were extremely busy," said Baker, of Waterloo, Ind. Never before had a Case Studies class attempted online sales. "We learned that we needed to place larger orders to control costs," said Tom Blake '13 of Plymouth, Ind., vice president of finance.
May 2013