3:30 p.m. Tuesday, March 15
Cordier Auditorium
International chess Grandmaster
takes on Manchester challengers
... "blind"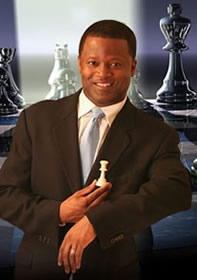 The sole African-American international chess Grandmaster is coming to Manchester College on Tuesday, March 15, with a game-board strategy for success in life. Following his 3:30 p.m. convocation in Cordier Auditorium, Maurice Ashley will take on two challengers, in "blind" matches.
Ashley, author of Chess for Success, opened the Harlem Chess Center and has coached Harlem youth teams into national chess champions. The U.S. Chess Federation named him 2003 Grandmaster of the Year. Ashley was featured on the CNN special: Black in America.
"At a time when schools are slashing activities, Grandmaster Ashley is an inspiration," said Judd Case, associate professor of communication studies and a chess player since age 5. "Ashley promotes chess as an inexpensive sport that develops concentration, discipline and self-esteem. If the old face of chess is a recluse such as Bobby Fisher, the new face is the charismatic, community-focused Maurice Ashley."
At 5:45 p.m. on March 15, Ashley will play Case and Abel Mengistu, president of the Manchester College Chess Club. He will play the matches "blind," in a separate closed room to enhance concentration. The games will be broadcast into a nearby room in the upper College Union, where guests can watch the action. "I hope his visit will inspire more people to take up chess as a hobby, considering it enhances thinking and concentration," says Mengistu, a computer science major from Ethiopia.
The Jamaican native is the first and only African-American chess Grandmaster. The World Chess Federation (FIDE) named him an International Grandmaster in 1999, the same year he opened the Harlem Chess Center for youth. He provided Grandmaster commentary for the 2011 U.S. Championship last May.
Chess teaches impatient kids the importance of hard work and delayed gratification, says Ashley, adding that the game improves problem-solving, strategic thinking and concentration.
Copies of Chess for Success will be available for purchase and Ashley will be available to sign his books. To learn more about Grandmaster Ashley, visit his website at www.mauriceashley.com.

March 2011