Manchester to honor science benefactor
Herbert Chinworth at May 20 commencement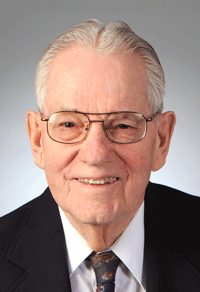 Manchester College will laud Dow Chemical Co. scientist and Manchester sciences benefactor Herbert E. Chinworth with an honorary Doctor of Science degree at commencement on Sunday, May 20.

Chinworth, who attended Manchester in the early '40s, also is the speaker for the 2:30 p.m. ceremony, before the College confers more than 249 bachelor's degrees in majors ranging from chemistry to education and accounting to exercise science and English. The College also will award one Masters in Athletic Training.

For much of his career, Chinworth supervised a Dow catalyst plant in Ludington, Mich. After two years at Manchester, he completed his engineering studies at Purdue University in 1943. During World War II, he served on a landing craft for the U.S. Navy, then earned a master's degree from the University of Michigan.

Chinworth and his wife, Arlene, are longtime benefactors and dear friends of Manchester College and have retired to North Manchester, Ind. They honored one of his mentors, chemistry Professor Harry R. Weimer by funding a wing of the Science Center in his name. They also have funded a laboratory and learning equipment in the Science Center.

Baccalaureate services begin at 11 a.m. on May 20 in Cordier Auditorium. The public is invited. Commencement exercises begin at 2:30 p.m. in the Physical Education and Recreation Center (PERC). Guests without tickets for reserved seating will want to arrive early for the open seating; doors open at 1:30 p.m.

For more information about the 2012 Manchester College graduation, click here.
April 2012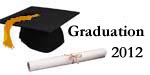 Indiana 114 Detour
Indiana 114 is closed
east of North Manchester between
S. Washington Road and S 200 W.
Marked detours are for trucks
and may not be the shortest route.