New human resources director
is an attorney with extensive experience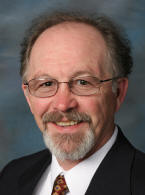 Manchester College's new director of human resources is an employment law attorney with considerable experience in HR and leadership coaching.
Dale E. Carpenter initially will focus on employee relations, benefits and compensation, as well as policies and procedures as he leads the Office of Human Resources. The College employs 300 faculty and staff members, and 500 students.
Carpenter is a former resident of North Manchester with many family members in the area. Most recently he was director of employee care, leadership coach and legal review administrator for The John Henry Company, a large printing and packaging company in Lansing, Mich. Before that he served as HR director and general counsel for the Reid Supply Co. mail order business in Muskegon, Mich. He also practiced employment law at Warner, Norcross & Judd in Grand Rapids, Mich.
Carpenter received his law degree, magna cum laude, from the Indiana University School of Law, Bloomington, where he was a managing editor of the Indiana Law Journal. His bachelor's is also from IU, in sociology. He is a member of the Michigan Bar Association, and will seek his Indiana law license.
Employment opportunities at Manchester College
April 2006