Monday, May 10, 2010
1 p.m. – Dedication program, Cordier Auditorium
2 p.m. – Display unveiling and reception, Funderburg Library
Manchester College, Heifer International
honor visionary Dan West '17
with permanent exhibit

Manchester College and Heifer International have established a permanent display at the College to honor Dan West, a distinguished Manchester alumnus who in 1944 founded the global nonprofit's forerunner, Heifers for Relief Committee.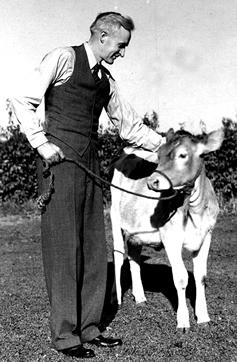 The display in Funderburg Library at Manchester College features memorabilia reflecting West's life – from his years as a conscientious objector during World War I to his service as an aid worker during the Spanish Civil War to his life-changing work through the Heifer Project. West died in 1971.

Dedication of the display began with a 1 p.m. program on May 10 in Cordier Auditorium on the North Manchester, Ind., campus. An unveiling of the display and reception followed in Funderburg Library.

"It's appropriate that Manchester College and Heifer International share in this testament to Dan West, a visionary whose passion for people and commitment to end hunger and poverty and care for the earth was borne out of the lessons of faith and justice instilled and inspired at Manchester College," said Charles O. Stewart, interim chief executive officer of the Little Rock-based Heifer International.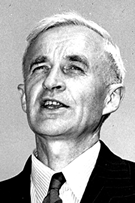 West was a 1917 graduate of Manchester, a 1,223-student liberal arts college in northeast Indiana deeply rooted in the tradition of the Church of the Brethren. The College mission stresses learning, faith, service, integrity, diversity and community in preparing students for life. West was a lifelong member of the Church of the Brethren.

"The vision and commitment of Dan West is woven throughout the fabric of this institution," said Manchester College President Jo Young Switzer. "He dedicated his life to relief work – from providing milk to hungry children during the Spanish Civil War in the 1930s to inspiring farmers to raise and send heifers and other farm animals abroad through Church of the Brethren organizations. He wanted to provide support that helped solve the root of the problem, so each recipient promised to give offspring of the animals to others in need."

Joining the May 10 unveiling and dedication of the 12-foot-wide by 8-foot-tall display was West's daughter Jan West '58 Schrock and son Larry West '60. "Dad's ideas just kept coming and coming," Schrock told the rapt crowd as the pair reminisced about supper table conversations led by a father passionate about relief based on sustainability.
Seagoing Cowboys (and a Cowgirl) posed for photos and exchanged stories of escorting farm animals, including wild horses, to their overseas destinations. College and Heifer representatives and area school and Heifer donors and supporters also participated.

The idea for what has become Heifer International stemmed from West's service to people during the Spanish Civil War, when he witnessed the challenge of trying to feed people in need with imported powdered milk.

Thus was born West's "not a cup, but a cow," inspiration, which today lives on as Heifer International, working in more than 50 countries to end poverty and hunger with gifts of livestock and plants – and education in sustainable agriculture – to financially-disadvantaged families. Recipients are asked to "pass on the gift" of livestock offspring to other families to multiply the aid and benefits.

Many artifacts of West's service, including his Bible, a ledger, awards, and even a Spanish child's shoes, are in the display, said President Switzer. Other items include Seagoing Cowboy memorabilia, including a photograph of Faith, the first heifer given to Heifer International.

A copy of the Doctor of Humane Letters conferred by Manchester College upon Heifer International in 1995 is in the display, as is a video and timeline of West's life and Heifer International. Other memorabilia in the exhibit: photographs, West's eyeglasses, Spanish dolls and his 25-year Brethren Service Commission pin. (More is in the Manchester College archives, upstairs in Funderburg Library.)

"Dan West was a man with a mission – to help people, to end hunger and to make the world a better place for everyone," said Jo Luck, president of Heifer International. "We are proud to carry on his work with the families and the children he loved so much around the world."

"Dan West, the Heifer Project and the Seagoing Cowboys combined ability with conviction to better thousands of lives worldwide," said Switzer. "We are proud of our Dan West heritage, and are certain that his example has inspired generations of Manchester College graduates and their families, as well as our faculty and staff members to step forward to help make this world a better place."

Heifer's mission is to end hunger and poverty while caring for the earth. Since 1944, Heifer International has provided livestock and environmentally sound agricultural training to improve the lives of those who struggle daily for reliable sources of food and income. Heifer is currently working in 50 countries, including the United States, to help families and communities become more self-reliant. For more about Heifer International: www.heifer.org or 800-696-1918.

Manchester, home of the nation's first peace studies program, offers more than 55 areas of study, with students from 21 states and 20 countries. Service and service learning is woven into the fabric of the College; last school year, Manchester students contributed 19,251 hours of service. For more about the College: www.manchester.edu or 800-852-3648.


May 2010