Recital
7 p.m. Friday, February 3, 2012
Cordier Auditorium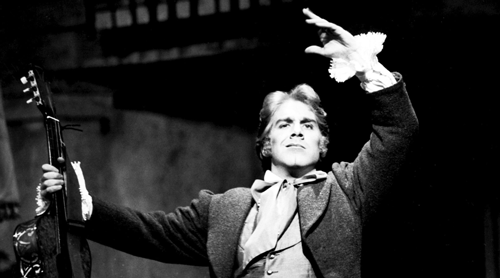 Daniel Belcher as Figaro in The Barber of Seville
Grammy-winner Daniel Belcher
brings recital, classes to MC, high schools
Grammy-winning baritone Daniel Belcher, who has performed in many of the world's leading opera houses, is coming to Manchester College as artist-in-residence Jan. 29 to Feb. 3. The public is welcome to share in the treat, which culminates with a recital on Friday, Feb. 3.

His visit includes a high school master class for selected Wabash and Kosciusko county vocal students, a stage movement workshop and a master class for Manchester College students. The public is welcome to observe the lessons; all are free.

"Daniel comes here to reach out and help teach high school and college vocal students what it takes to be a successful performer and to challenge and inspire them to work to their greatest potential – starting now," said Debra Lynn, chair of the Manchester College Music Department. She was a student and performed with Belcher at William Jewell College in Missouri.

For his Feb. 3 recital, Belcher will perform arias from several of his premiered roles, including an excerpt from his 2011 Grammy-winning recording of "J'ai appris a parler du Bonheur" in Kaija Saariaho's opera L'Amour de Loi. Pianists are Pamela Haynes and JiYoung Jeoung. A reception follows the recital, in the lobby.

During his Manchester College residency, Belcher will visit high schools in North Manchester, Warsaw and Wabash, working with their choirs on vocal technique and discussing music careers.

He also will present master classes for high school and college students recommended by their voice instructors. Each student will perform one selection for the audience, followed by individual lessons with Belcher. Anyone may observe the classes. "It is an excellent opportunity for observers to learn about what goes into becoming a singer – and that it is not just an accident that some people sound good," said Lynn.
Manchester offers programs in music education, applied music, music theory/composition and general music. For more about music at Manchester College, click here.

"It's interesting how some of the most gifted students think they don't need to work hard – but that is so backward! It's the most gifted ones who need to be the most diligent ... because they ARE so talented! They stand a better chance at achieving true artistic perfection than those with less ability and aptitude."

Belcher arrives in northern Indiana on the heels of a busy 2011, most recently playing Mercutio in Gounod's Romeo and Juliette at ABAO-OLBE in Bilbao, Spain; Chou En-Lai in Adams's Nixon in China at the Lyric Opera of Kansas City; and Dandini in Rossini's La Cenerentola with the Madison Opera.

Other recent venues include Carnegie Hall, Houston Grand Opera, Grand Théâtre de Genève, San Francisco Opera, New National Theater of Japan, Opera Ireland, St. Gallen Festpiele (Switzerland), New York City Opera, City Central Opera, Fort Worth Opera, Opera Atelier, Garsington Festival, Arizona Opera, Wolf Trap Opera and Opéra Montpellier.

"Daniel is a perfect example of what I describe to applied music (performance) majors and their parents when they ask about the practicality of such a degree," said Lynn. "Daniel is not a household name like Luciano Pavarotti or Marilyn Horne, yet he has performed steadily for pay all over the globe for the past 20 years. Daniel is the kind of success story I want our voice students to learn about."
Artist-in-Residency Schedule

High School Pre-Contest Master Class for Wabash and Kosciusko vocal students, 6 to 9 p.m., Sunday, Jan. 29, Wine Recital Hall. Participants must be recommended by their high school vocal music teachers. Observers welcome.

Stage Movement Workshop, 7 to 9 p.m., Tuesday, Jan. 31, Cordier Auditorium. Anyone welcome to participate or observe.

Master Class for Manchester College students, 6:30 to 9:30 p.m., Wednesday, Feb. 1, Wine Recital Hall. Participants must be recommended by their vocal instructor. Observers welcome.

Daniel Belcher in Recital, 7 p.m., Friday, Feb. 3, Cordier Auditorium.

For more about Daniel Belcher, visit his website.
January 2012