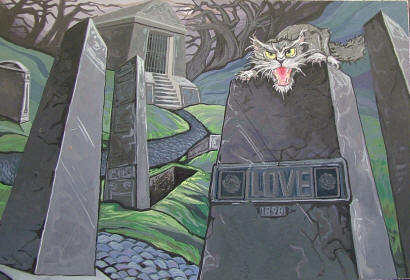 Warsaw art teacher brings macabre dance to "life"
for MSO performance Oct. 29
The artistry of Warsaw teacher Karen June Klimpert, combined with many hours in area cemeteries and the assistance of a Manchester College art professor, comes to life Sunday, Oct. 29 behind the Manchester Symphony Orchestra.
Klimpert has created two dozen background paintings and about 70 cels (acetate cellulose) overlays to "animate" skeletons for about 300 scenes that will be projected during the MSO's performance of Danse Macabre by Camille Saint-SaŽns. She has spent hundreds of hours on this project, often until the wee hours of the morning.
Manchester art Professor James R.C. Adams has assisted by photographing sections of Klimpert's scenes to create more background, and by providing the video synchronization with the music. (Adams also does the program notes for the MSO.)
Klimpert and Adams volunteered to do the project with MSO Director Suzanne Gindin's blessing, "because it will be fun to see and I think we know how to pull it off," said Adams. Neither Klimpert nor Adams has received reimbursement.
Klimpert has spent many hours in graveyards, getting ideas for the music about death arriving in a cemetery at midnight and playing a waltz on his violin. The dead rise from their graves to dance for him. The music lasts only seven minutes but synchronizing all the clips with the music took many hours and $14,000 in professional editing equipment.
Next week, after the performance, Klimpert's work for the Danse Macabre will be exhibited in Link Gallery on the Manchester College campus. Adjacent to Wine Recital Hall, the gallery is open 8 a.m. to 8 p.m. weekdays.
Klimpert is a 1985 art education graduate of Manchester College. She attended the American Academy of Art and has a master's in teaching and learning from Nova Southeastern University in Florida. She has taught in Warsaw Community Schools for 20 years, also helping with set production at the College. This is her third collaboration with Adams in providing visual accompaniment to music productions.
The MSO debuts its 68th season Sunday with Mysterious Melodies and Haunting Harmonies. The program begins at 3 p.m. in Cordier Auditorium on the Manchester College campus. Tickets are $7.50 at the door.
For more information about the 50-member Manchester Symphony Orchestra, visit mso.manchester.edu. Contact the MSO at mso@manchester.edu or Manchester Symphony Society, P.O. Box 113, North Manchester, IN, 46962.