Manchester looks to Do it Best's Dave Haist
for alumni relations leadership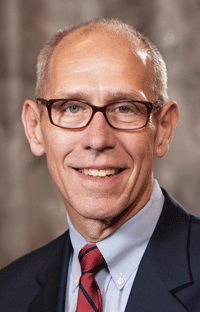 A top official is leaving the international hardware cooperative Do it Best Corp. to serve as the next alumni relations leader of Manchester College.

Dave Haist, a 1973 business and economics alumnus who has remained connected with his alma mater throughout his corporate and legal career, begins his new job officially on July 9. He succeeds 1965 graduate Gary Montel, who has directed alumni relations since 1991.

Haist is retiring as executive vice president and chief operating officer of the Fort Wayne-based Do it Best cooperative of 4,000 hardware and building supply stores.

He brings three decades of dynamic leadership not only with Do it Best and as managing partner of a major Fort Wayne law firm, but also with Manchester, says College President Jo Young Switzer. "Dave Haist is a respected and well-informed leader who grows deep roots in the communities where he works. His knowledge of finance, the law and the complex world of global business is extraordinary."

Haist has chaired Manchester's Board of Trustees and its committees, and is co-chair with his wife, Sandy (a '74 graduate), of the $100 million Students First! fund-raising campaign. The student dining Commons in The Union bears the family name.

"In a sense, we never really left Manchester after graduation," says Haist as he grins widely about his new role as executive director of alumni relations. He also will teach a class, Principled Leadership. "I get to do something entirely different with my career. It's invigorating, personally satisfying. I couldn't be more excited."

It's the student experience at Manchester that inspires the corporate Haist to his new role in higher education. "Manchester does so much for its students," he says with prideful awe. His passion stems from his own story as a "reluctant student" from Wabash, Ind., whose parents insisted he give college a try.

"Manchester opened my mind. It prepared me for life, and introduced me to the necessity of volunteer service and involvement," he says, quickly adding that Manchester prepared him to succeed in law school and CPA certification, and for success in those professions. It is also where he met his wife, Sandy.

He is inspired by "where Manchester is headed, what Manchester is doing," with its new learning centers in North Manchester and Fort Wayne, a Pharmacy professional doctoral degree, increasing enrollment, a name change on July 1 to University, and the dedication to a Mission of learning, commitment and service.

Haist was managing partner of Barnes & Thornburg's Fort Wayne law office, before joining his client in 1997 as general counsel and vice president of corporate affairs. Then he tackled Do it Best's retail development, continuing to expand his leadership role as the 4,000-member cooperative grew to more than $2.4 billion in sales at hardware and building materials stores in all 50 states and more than 50 countries.

Haist sees many parallels between Do it Best and Manchester, especially in the importance of well-served connections.
"Do it Best is a membership organization that engages all of its members," he says. "I'm a strong believer in teams, in groups: Engage folks, bring folks together. Connect people and allow people to be even more connected."

Haist also has many connections in northeast Indiana, with service on community boards that have included Fort Wayne Children's Zoo, Fort Wayne-Allen County Economic Development Alliance, YMCA of Greater Fort Wayne, Honeywell Foundation, Parkview Health Systems. The Indiana Academy inducted him for his service leadership in 2008 and Manchester gave the couple its Alumni Honor Award in 2011.

For more about Manchester, visit www.manchester.edu.
June 2012