The Indiana Academy inducts
Dave Haist of Do It Best,
Manchester College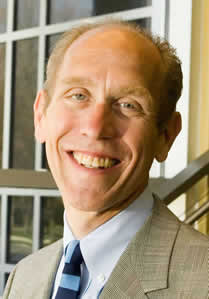 Manchester College leader David A. Haist of Spencerville, Ind., has been inducted into The Indiana Academy for his lifetime achievement and contribution to Indiana.
Haist, of Spencerville, Ind., is executive vice president and chief operating officer of Do It Best Corp., a $3 billion member-owned international hardware and building materials cooperative headquartered in Fort Wayne. He also chairs the Parkview Hospital Board, and is former chair of the Manchester College Board of Trustees and the Fort Wayne Philharmonic.
The Academy recognizes Indiana individuals for their leadership, achievement and philanthropy that furthers development of business, public service, higher education, the arts and sciences, literature and the general culture of Indiana. It is a foundation of Independent Colleges of Indiana, which represents 31 independent colleges and universities.
"Through his personal involvement and his financial contributions he has enhanced the quality of life in Indiana and the citizens of Indiana have benefited through his leadership," wrote Academy member Ian M. Rolland in supporting Haist's nomination. Rolland, retired chair and CEO of Lincoln National Corp., joined two other active Academy members in the nomination: Richard E. Ford, retired director of Wabash-based Ford Meter Box Co.; and A. Blair Helman, president emeritus of Manchester College.
Haist intentionally grows deep roots in his communities, helping those communities grow with his respectful and imminently well-informed leadership, said Manchester College President Jo Young Switzer. He has served on the College Board of Trustees more than 17 years, including as its chair during a $70 million fund drive that exceeded goal by $20 million and transformed campus with new buildings and programs.
"A keen thinker, Haist's knowledge of finance, the law, and now the complex world of international retail is extraordinary," said Switzer, praising the 1973 accounting and economics alumnus for his conviction and commitment to use those abilities to strengthen his community and the State of Indiana. Haist's wife, Sandy Cleveland Haist, has degrees in home economics and computer science from the College.
Haist, a former managing partner of the Fort Wayne law offices of Barnes & Thornburg, joined Do It Best Corp. in 1997 as general counsel and vice president of corporate affairs. Do It Best is the largest privately owned company in Indiana, with more than $2.8 billion in sales through 4,100 stores in 50 states and 47 countries.
His leadership extends to membership on the boards of YMCA of Allen County, Parkview Health Systems, Fort Wayne-Allen County Economic Development Alliance, The Honeywell Foundation and the Fort Wayne Zoological Society.
The Academy inducted four other members:
LaRita Boren of Upland, executive director of Avis Industrial Corp.
Dr. E. Henry 'Ned" Lamkin, president/CEO of Indiana Employers Quality Health Alliance
Frank H. Levinson of Syracuse, founder/managing director of Small World Group and founder of Finisar Corp.
Philip A. Newbold of South Bend, president/CEO of Memorial Hospital of South Bend
Independent Colleges of Indiana represents the state's 31 nonprofit, accredited, undergraduate colleges and universities, with more than 83,000 students. The schools award more than 30 percent of the state's bachelor's degrees. For more information, visit www.icindiana.org.
For more about Manchester College, which offers more than 55 areas of undergraduate study to 1,036 students from 24 states and 23 countries, visit www.manchester.edu