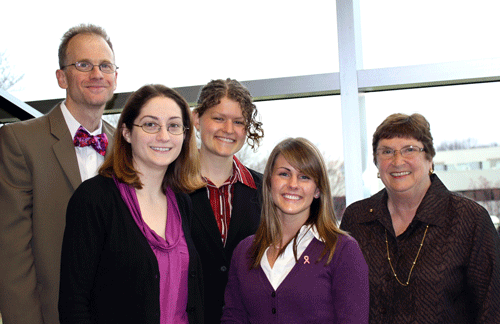 From left: Dean Sharfman, Amy Kraner, Natalie Collar, Erin Cole, President Switzer
Manchester scholars on perfectionism,
Japanese language and cancer inhibitors
 earn top honors for research writing
A "—" dash or minus sign for folks back home in Indiana symbolizes the number "1" on the other side of the globe in Japan. Imagine the hurdles of learning even the most basic words for a first-generation Manchester College student studying a semester abroad in Japan.
Senior Natalie Collar's expository research about the challenges facing Western learners of Japanese has earned top honors at the 13th annual Student Research Symposium at Manchester College. Collar, a Fort Wayne mathematics major, and two other extraordinary students each received a $150 prize and huge applause for winning The Jo Young Switzer Award for Excellence in Writing. All three worked closely with faculty mentors; Collar's mentor was English Professor Beate Gilliar.
Senior biology-chemistry major Erin Cole received the methodological research writing award for Analysis of the Effectiveness of Cancer-associated PCNA Inhibitors Using In Vitro SV40 DNA Replication Assays. Mentored by Jeff Osborne, associate professor of chemistry, the first-generation college student from Mooresville, Ind., aspires to be a physician.
And while her research is confounding to the non-scientist, her writing skills are graduate level, praises Glenn Sharfman, vice president and dean for academic affairs and sponsor of the Student Research Symposium. A total of 43 students presented.
Such scholarship beyond her years was the reason junior psychology major Amy Kraner of North Manchester received the quantitative writing award, for Perfectionism: Differential Relationships with the Equity Norm and Belief in a Just World. Kraner's mentor for the symposium was Marcie Coulter-Kern, associate professor of psychology.
"The scholarship you completed matters to the College, it matters to you and it matters to your field," Sharfman said. "I want to congratulate all of you students for doing something when you did not have to. You engaged in this purely for the love of scholarship."
All of the presentations are available on the Manchester College website, at www.manchester.edu.
April 2011