7:30 p.m. Thursday, Oct. 11 & Saturday, Oct. 13
3 p.m. Sunday, Oct. 14
Wampler Auditorium, North Manchester campus
Young Manchester alumnus authors
Homecoming weekend dark comendy
Expect a late '40s dark comedy complete with a determined gumshoe and a dead Hollywood starlet for Homecoming weekend, Oct. 11-14 on the North Manchester campus of Manchester University.
The premiere of A Devil in the Church, written by Manchester 2010 alumnus Adam King, opens at 7:30 p.m. on Thursday, Oct. 11 in Wampler Auditorium. The curtain also rises at 7:30 p.m. on Saturday, Oct. 13 and for a 3 p.m. matinee on Sunday, Oct. 14. (The actors rest Friday night to accommodate a popular alumni concert.) Tickets, at the door, are $7 for adults and $5 for senior citizens and non-MU students (cash or check).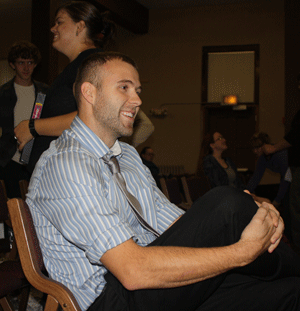 "This fall play is different than what Manchester is used to," says Director Jane R. Frazier, MU lecturer of theatre. Intended for an adult audience, the comedy murder mystery is set in 1949, in the Hollywood cinematic style of film noir.
"This is neo-noir, a modern version of film noir," says King, who majored in English at Manchester and is an assistant English teacher and writing lab instructor for Canterbury High School in Fort Wayne. He recently appeared in A Few Good Men at the Fort Wayne Civic Theatre.
Fascinated by its implications, King let the film noir genre shape his play, working with Frazier through numerous rewrites and readings to ensure the play remains true to its time period.
"You immediately understand that the play is going to be as historically accurate as possible," says first-year student Jacob Ray, who plays workhorse Detective Robert Rathbone. All the actors are MU students except Campus Pastor Walt Wiltschek, who remains somewhat in character as Father Melvin Girard.
Though the play has dark elements, "It's peppered with a little silliness," Frazier notes.
"Do you like humor? There's humor. Do you enjoy mystery? There's mystery. Do you prefer drama? There is drama," adds Ray, an English major from Claypool, Ind.
Not unusual for a novice playwright, the play is not brief. Expect a 2½-hour visit with the devil and a cast of 15 actors. "It doesn't seem like a long play," says sophomore Nicola Jones, who plays Lucille Weinstein, a flaky actress and girlfriend to a slick lawyer. "You will be intrigued for the whole time," says the accounting major from Decatur, Ind.
"The ending … it'll get you," Ray promises.

October 2012