BSU fund-raiser to lead
Manchester College's efforts
E. Michael Eastman will bring an extensive background in fund-raising, strategic planning and alumni administration as Manchester College's new vice president for College Advancement. Eastman, currently director of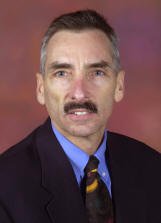 development for Ball State University, will join the Manchester College leadership in mid-September, announced President Jo Young Switzer.
Eastman has led major gift development activities at BSU since 2002. He also has served as alumni director for the University of Cincinnati, George Mason University and Anderson University.
At Manchester, he will lead a team that has surpassed a $52 million fund drive more than a year early with $15.5 million extra, including financing without debt a $17 million Science Center to be dedicated Sept. 16. The College continues to raise funds for an expanded College Union, also a part of the $52 million campaign. The College is on the cusp of a new strategic plan that will direct the next fund-raising emphasis, which will include bolstering The Manchester Fund.
Eastman earned a doctorate in adult and community education from Ball State, a master's in religious education and a bachelor's in elementary education from Anderson, and a master's in educational administration from The Ohio State University.
Manchester, a Church of the Brethren college, offers in-depth study in more than 34 areas to about 1,100 students. U.S. News & World Report this week ranked Manchester as one of the Best Colleges in the Midwest. For more about the college, visit www.manchester.edu