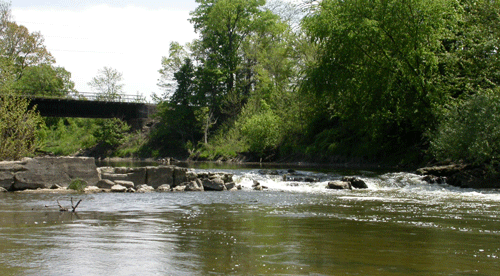 North Manchester dam on the Eel River
Landowners get conservation incentives,
dams are coming down along Eel River
The benefits of two new Eel River federal grants will flow all the way downriver to the Gulf of Mexico. Both are products of the $1 million Middle Eel River Watershed Initiative.
$2.9 million over five years for Eel River landowners and agribusinesses in Kosciusko, Wabash and Miami counties to reduce phosphorus, nitrogen and soil runoff.
$120,000 over two years to remove two Eel River dams, at Liberty Mills and North Manchester
The $2.9 million comes from the Natural Resources Conservation Service as part of the new Mississippi River Basin Initiative to avoid, control and trap nutrient and soil runoff into streams while maintaining agricultural productivity.
The Eel River watershed is one of 41 watersheds in 12 states designated a priority for the funding, primarily because of the volume of data collected by Manchester College scientists and students over the past five years. "Our relationship with the agricultural community and our ability to monitor and detect changes in nutrient export was central to bringing this money to our area" said Jerry Sweeten, associate professor of biology and director of environmental studies.
"Excess nutrients (phosphorus and nitrogen) along with sediment entering the Eel River is far-reaching," said Sweeten. The Eel River flows into the Wabash River, which flows into the Ohio River, which flows into the Mississippi.
These excess nutrients and soil have created a 6,000-square-mile hypoxic zone (low-dissolved oxygen) in the Gulf of Mexico. "By reducing the nutrient export from the Corn Belt region, it will hopefully reduce the hypoxic zone and improve the water quality of the Eel River," said Sweeten.

All of the grant will be spent on best management practices initiated voluntarily by Eel River watershed landowners, and appropriated by soil conservation districts and natural resources offices in the three counties. Among possible best practices: cover crops planted in the fall to protect soil over the winter, buffers along streams, fencing livestock away from the river and feeder streams, and restoring wetlands.
A two-year $120,000 grant from the Ohio River Basin Fish Habitat Partnership and the U.S. Fish & Wildlife Service will finance removal of two of the six degraded Eel River dams to enhance stream habitat, fish passageways and recreational use.
The dams are no longer functional and are extremely dangerous, said Sweeten. The dams at Liberty Mills and North Manchester are the first significant dams to be removed in Indiana for the National Fish Passageway Program. Scientific studies of the river before and after removal will be conducted by Manchester College scientists and students, Sweeten said. The work may begin as early as this coming winter, by Troy Eads Excavating Inc. of Lagro.

For more about the Middle Eel River Watershed Initiative, click here.
August 2010
Terri Michaelis, Coordinator
260-982-5101
Manchester College
Science Center, Room 211
North Manchester, IN 46962
Read more about the Initiative