7 to 8:30 p.m. Tuesday, February 9
Church of the Brethren, 515 Chippewa Road, Roann
Eel River Initiative meeting Feb 9
discusses 75% landowner
cost-share program
Landowners and farmers, business leaders, conservationists and other concerned citizens are invited to a public meeting about opportunities for 75 percent reimbursement for "best practices" conservation projects within the Middle Eel River Watershed Initiative.
The free, public meeting begins at 7 p.m. on Wednesday, Feb. 9, in the Church of the Brethren in Roann. Reservations are not necessary.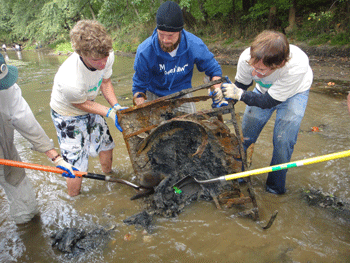 Agriculture – which uses about 89 percent of the land along the 30-mile stretch of the middle Eel River – is the primary focus of the cost-share program, which is funded by the U.S. Environmental Protection Agency.
Owners of property in nine critical areas who apply best-management practices to reduce pollution – particularly decreasing suspended sediment, nitrogen, total phosphorous and E. coli – could receive up to 75 percent reimbursement.
Best practices range from cover crops and grassed waterways to waste basins and wetland restoration. District Natural Resources Conservation Service conservationists will review and approve cost-share projects, which must be maintained for five to 10 years, depending on whether they are vegetative or structural. All projects must be complete Dec. 31, 2012.
Nine watersheds in the 30-mile Eel River Initiative are identified as critical areas in the Watershed Management Plan, including Silver Creek, Beargrass Creek, Little Weesau-Weesau Creek, Flowers Creek, Otter Creek, Squirrel Creek, the Town of Roann, Washonis Creek and Oren Ditch-Paw Paw Creek.
The Feb. 9 meeting is important for discussing questions, concerns and comments about the $1 million Initiative that is in its third year of serving a 30-mile stretch of the river between North Manchester and Mexico, Ind., said watershed coordinator Terri Michaelis. Scientists at the meeting also will report on water monitoring results of the river, which is on the EPA "impaired" list for excessive levels of E. coli, PCBs, mercury and other pollutants.
Manchester College leads the Middle Eel River Initiative, collaborating with Wabash, Kosciusko and Miami county agencies, organizations, landowners and others. For more information, contact the watershed coordinator, Terri Michaelis at 260-982-5101 or tmmichaelis@manchester.edu.
January 2011