UPDATE: Steering Committee, coordinator named

$1 million College-led initiative
unites area agencies, groups
in Eel River clean-up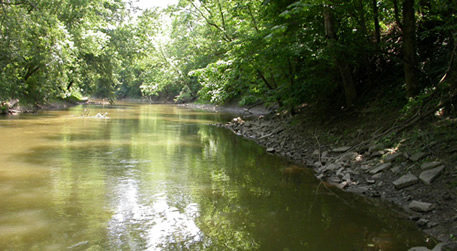 July 28, 2008 -- A coalition of Manchester College, Wabash and Miami county conservation agencies, and at least 17 other groups will embark on a $1 million initiative to improve the water quality of a 30-mile stretch of the Eel River.
The Middle Eel River Watershed Initiative this month received nearly $600,000 in "Section 319" Clean Water Act funds designated by the Indiana Department of Environmental Management (IDEM). An additional $400,000 in contributions will come from agencies, schools, organizations, businesses and individuals who are stakeholders in the quality of the Eel River.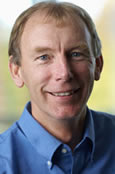 Dr. Jerry Sweeten
"Our goal is to make the Eel River a better place for aquatic life and people," declared Manchester College scientist Jerry Sweeten, who wrote the grant request and has done considerable research on water pollution and flow of the Eel River, particularly as it affects smallmouth bass. "It's a tremendous natural resource that's been neglected for many years."
The Eel was once one of the outstanding fishing streams in the Midwest. Today, water quality and numerous dams impair fish and aquatic life, as well as recreational opportunities. The river is on the Environmental Protection Agency's "impaired" list for its excessive levels of e-coli, PCBs, mercury and other pollution.
"We'll work on this together, to find solutions together, with money to do it," said Sweeten of the Initiative, which brings together many agencies and organizations that traditionally function independently. The grant will fund a watershed management plan; identification and remediation of high priority water pollution sites; scientific monitoring of flow, pollutants, and aquatic organisms; and public outreach, said Sweeten.
College scientists and student researchers will do the monitoring, with county agricultural agencies fostering rapport with farmers, agri-businesses and others in the watershed. Area environmental groups, schools, clubs and organizations will provide scores of volunteers.
"We all live in a watershed," said Jan Stout, program director for the Miami County Soil and Water Conservation District. "What we do in the watershed affects not only ourselves, but others who live downstream. The Miami County Soil and Water Conservation District is pleased and eager to begin to assist in this effort."
Manchester College sought the funding with substantial early partnership commitments of Soil and Water Conservation Districts in Wabash and Miami counties, Waterborne Environmental Inc., Friends of Miami County's Bridges, Stockdale Mill Foundation and the North Manchester Historical Society. At least a dozen other organizations and agencies also have pledged cash, volunteers, equipment and technical assistance.
While these organizations will contribute almost $400,000 in matching funds, labor, research and equipment, the initiative expects, through wide-reaching education and outreach, to ignite commitment from scores of area residents – boaters, youth groups, anglers, farmers, businesses, environmental and conservation groups, and others. Sweeten already is seeking additional grants and partnerships to extend the life and scope of the Initiative.
"The dedication of local watershed groups (like the Initiative) is admirable," said Bruno Pigott, assistant commissioner of the IDEM Office of Water Quality. "The work these organizations do is vital, and their call for change is inspirational."
The first step is forming a steering committee of scientists, area agency officials, farmers and key environmentalists – stakeholders in the quality of the Eel River. The committee will hire a watershed coordinator (a scientist) this fall. Stream monitoring will begin in January, as will public meetings on the four-year Initiative.
The 110-mile Eel River traverses northern Indiana cornfields, woods and small communities in six counties, from western Allen County, through Whitley, Kosciusko, Wabash, Miami and Cass counties, feeding into the Wabash River at Logansport. Old grist mill dams along the watershed are in various stages of disrepair, inhibiting fish migration, fishing and boating, and collecting sediment.
The project focuses on the middle third of the Eel River, about 30 miles between North Manchester, home of the College, southwest to Mexico, Ind. That watershed encompasses about 300 square miles. A major education component is a touring display of the project by the North Manchester Historical Society.
For more about the Middle Eel River Watershed Initiative, contact Jerry Sweeten, associate professor of biology at Manchester College, at jesweeten@manchester.edu or 260-982-5307.
Middle Eel River Watershed Initiative Partners:
Miami County Soil and Water Conservation District
Wabash County Soil and Water Conservation District
Friends of Miami County's Bridges
Miami County Council
Indiana Department of Natural Resources
Wabash County Highway Department
North Manchester Historical Society
Steering Committee
North Miami Future Farmers of America
Wabash County Surveyor
Indiana Smallmouth Conservation
Arrowhead Resource Conservation & Development Council
Wabash County Solid Waste District
North Miami Middle School
Miami County Highway Department
Individual river clean-up volunteers
Posted July 28, 2008