Trip canceled due to unrest in Egypt
Manchester College extends invitation
to join spring alumni tour of Egypt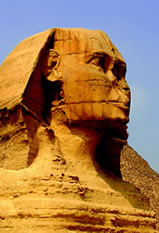 Manchester College is inviting its alumni, friends and neighbors to embark on a journey of a lifetime – a cruise on the Nile River in Egypt in March 2011. The 11-day tour is hosted by Becky Waas and her husband David Waas, professor emeritus of history who has led hundreds of Manchester students and alumni on travel adventures. (Both are MC alumni.)
Travelers will experience the monuments and architecture of the world's oldest civilizations, beginning in Cairo and sailing the Nile to the Aswan Dam on an itinerary rich with unforgettable destinations.
The March 18-28 tour includes round-trip airfare from Chicago O'Hare Airport, accommodations in a first-class Cairo hotel and in outside cabins with private facilities on the cruise ship. Sightseeing and entrance fees, most meals, transfers, taxes, service charges and flight insurance also included in the $3,199 tour arranged through Nawas International.
For more information and a detailed trip itinerary, contact the Alumni Office of Manchester College, 260-982-5223, alumnioffice@manchester.edu.
September 2010