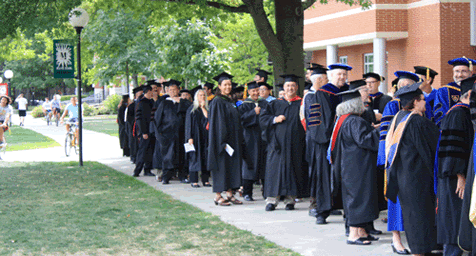 Faculty gather for the opening convocation on Aug. 30, 2011.
Official enrollment = 1,320
1,300: Manchester surpasses strategic
enrollment goal, sets 40-year record
Manchester College has surpassed its strategic enrollment goal, starting classes Aug. 31 with more than 1,300 students, up 27 percent since fall 2007. Once again, the independent college is setting records, with its largest enrollment in 40 years.
The College is riding a three-year momentum of large incoming class sizes, as well as an increase in transfer students and retention of students into their sophomore year, said President Jo Young Switzer.

More than 40 students are enrolled in a growing two-year pre-pharmacy program that will prepare them for the College's School of Pharmacy doctoral program slated to open next fall in Fort Wayne. The strongest enrollments continue to be in education, accounting and business, the sciences and athletic training.

Students arrived on campus to construction well under way on a new Academic Center that will provide $9.1 million in state-of-the-art learning areas for accounting and business, the humanities and social sciences. That three-story building will open next summer, equipped with a welcome center for student recruiting.

The Class of 2015 was aggressive in its college choice, said Dave McFadden, executive vice president. "Our new students this year knew what they wanted in a college. They were very deliberate in choosing to apply, to visit and to enroll in Manchester." Recruiters and financial aid counselors worked closely with families to ensure a good match for the students and the College, he said.

To learn more about Manchester College, visit www.manchester.edu.
August 2011