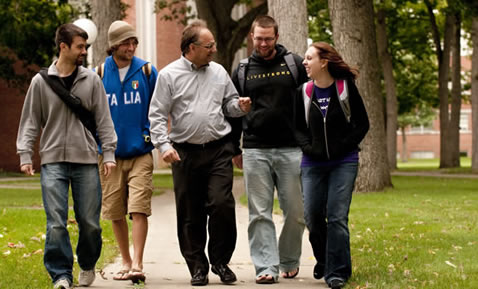 Official enrollment = 1,278
New classrooms, popular programs
will greet third-straight fall surge
of Manchester College students
As interest surges in careers in athletic training, sport management and the sciences, students are choosing Manchester College in record numbers for the third-straight year. The independent college expects more than 1,270 students when classes begin Sept. 1 – its largest enrollment since the Vietnam era and at least 5 percent more than last fall.
Accounting and business, education and science degrees continue to be Manchester mainstays, said Registrar Lila Hammer, who will report official enrollment in a few weeks. More than 32 students are embarking on the College's newly restructured degree program in sport management, with strong interest also in pre-pharmacy, as students anticipate the opening of the Manchester College School of Pharmacy doctoral program in central Fort Wayne in fall 2012.
The College has added faculty, labs and class sections to accommodate the additional students, Hammer said. Two large brand-new technologically "smart" classrooms adjacent to the athletic training facility and two new locker rooms and athlete facilities will greet students in a $1.5 million addition to the PERC sports complex.

Enrollment also is buoyed by students transferring to Manchester, which has received national attention for its Fast Forward three-year degree and its "Best College" and "Great College at a Great Price" rankings in college guides.

More than 36 new transfer students are enrolled and more are expected, said Dave McFadden, executive vice president. That's an indication that Manchester's emphasis on affordable and accessible higher education is valued, he said.
"We know that many students are starting out at local community colleges as their families weather the economic storms," McFadden said. The College's transfer guide helps students select classes that will meld with the Manchester curriculum and officials also are working with Ivy Tech to smooth the way to a Manchester bachelor's degree.
For more about Manchester College, which offers 55 areas of baccalaureate study and master's degrees in athletic training and education, visit www.manchester.edu.
August 2010