At Manchester, entrepreneurship means innovation.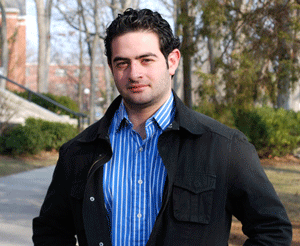 Mark E. Johnston Entrepreneurship
intern seeks innovations in Mideast
"It's not about starting businesses – It's about learning to be the internal change maker in the organization you go to," says Mark E. Johnston Professor of Entrepreneurship Jim Falkiner. This summer, senior Wasim Jabari is carrying that mantra to students in Israel and Palestine as the first Mideast intern of Manchester College's entrepreneurship program.

Jabari, a management and marketing major from Jerusalem, landed the internship after Falkiner connected with 2005 Manchester graduate Yousef Ghosheh of Sharek Youth Forum United Nations Volunteers in Ramallah, West Bank, on the My Manchester College online community. During their My Manchester conversation, Ghosheh revealed he needed summer help.

In Jerusalem, Jabari is learning about innovations applied by the Sharek Youth Forum and researching innovation training and entrepreneurship within the Palestinian territories. Of course, he also is spreading the story of the Manchester College entrepreneurship program among area educators and leaders, including at the Friends School and other schools, where he is encouraging U.S.-bound high school graduates to check out Manchester College. (About 4 percent of the 1,045 students at the northern Indiana College are international.)

The Mark E. Johnston program provides classes in entrepreneurial thinking and entrepreneurial skills. Students who successfully complete the program receive a Certificate of Innovation. No other Indiana college or university in Indiana offers such a certificate.

Manchester offers a special blend of entrepreneurship that focuses on innovative thinking and action in all careers and majors, not just by starting a business. For more about the Mark E. Johnston Entrepreneurship program at Manchester College, click here.
July 2009