First-time college family
is role model for "Realizing the Dream"
First-generation college students will find the perfect role model in Manchester College sophomore Erin Cole of Mooresville.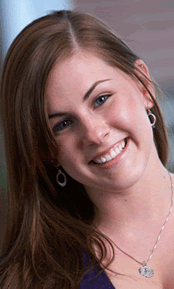 The biology-chemistry major is making a banquet of her college experience, studying abroad, playing violin in the community symphony, helping area Hispanic residents learn English, doing research in electrophoresis, taking photos for the campus newspaper … and making top grades. She also has a campus job in the Chemistry Department and runs her own photography business!
Cole is the College's "Realizing the Dream" Outstanding First-Generation Student for 2008-2009. She and her family will receive the honor, and a $2,000 boost to her scholarship coffers, at a Nov. 8 banquet sponsored by Independent Colleges of Indiana.
The Coles are not alone at Manchester College, where students whose parents did not attend college comprise 24 percent of enrollment.
"I chose Manchester because I didn't want the huge university experience," said Cole, a graduate of Mooresville High School, southwest of Indianapolis. "It was the first college that I came to visit and I felt very comfortable."
Cole has aspirations of medical school after graduation. "I've wanted to be a doctor since I was a little kid," she said. "My mom has worked for a pediatrician since I was little and she would get mad at me because I always used to snoop through her medical books and cut stuff out."
While Cole admits being a first-generation student isn't easy, she is receiving a lot of help along the way. "My parents helped me a lot. My mother was there helping me every step of the way, from researching colleges to filling out scholarship applications." Her high grades at Mooresville helped Manchester College admissions counselors build a strong scholarship and aid package to help the family pursue their dream.
She also credits her Honors English teacher at Mooresville High – Jacob Allen – for helping her find her place in college. "He is super-enthusiastic about his job, always seems happy, and is fun to talk to," she said. "He was a good role model who always made college seem exciting."
Acknowledging the importance of such mentoring in first-generation decisions to pursue higher education, Independent Colleges of Indiana will recognize Allen with its "Outstanding Teacher" award at the Indianapolis celebration Nov. 8.
A brand-new Manchester College program that supports first-generation students "would have made things less stressful and less complicated," Cole said. Manchester recently received a $100,000 grant from Wal-Mart Foundation to assist and mentor area first-generation high school students who plan to attend college.
For more about attending Manchester College, visit www.manchester.edu
Oct. 22, 2008