"Move that Bus!" airs at 8 p.m. EST Sunday, Jan. 10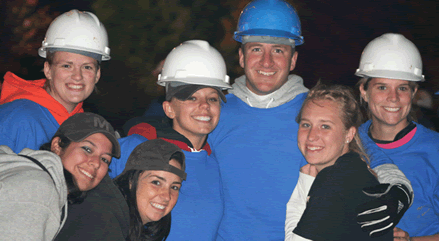 From left: Amanda Cave '12, Annie Hernandez '12, Abbee Iungerich '11,
Hilary Lahr '13, Jeff Beer, Amanda Donelson '10, Mary McCauley '11
Manchester College volunteers join
Extreme Makeover: Home Edition
for struggling Kokomo area family
"Move that bus!" It's almost time for the rest of us to see the results of volunteerism – including by Manchester College students – on an ABC Extreme Makeover: Home Edition of a Kokomo family's residence. Air time is 8 p.m. this Sunday, Jan. 10.
Oct. 23-25, Manchester College members of the women's softball and soccer teams, athletic training staff, Office of Volunteer Services and a few other Manchester faculty and alumni picked up the paintbrushes, hammers and brooms in the name of compassion.
The popular ABC television show travels the country helping to rebuild the homes of struggling families. The efforts are all donated, from the building materials to the week-long, labor-intensive process of putting the dream house together with the family is sent on an all-paid vacation.
On Oct. 21 Extreme Makeover: Home Edition arrived at the Kokomo area home of the Cowan-Brown family, where factory workers Andy and Heather Cowan were struggling to support their four children, including a 12-year-old with a congenital blood disease.
Manchester College got the heads-up about the opportunity from Kokomo-area students, including junior accounting major Daniel Wyant, who lives a half-mile from the Cowan-Brown home and is friends with the family.
Senior athletic training major Amanda Donelson learned about the opportunity from her hometown newspaper, The Kokomo Tribune. She contacted Jeff Beer, director of athletic training and assistant professor of exercise and sport sciences, who connected with the Extreme Makeover: Home Edition site contractor and volunteer coordinator, Hallmark Homes Inc., of Kokomo.
Athletic training majors "had been discussing getting involved in a volunteer project and this seemed like the perfect fit," said Donelson, whose mother fed the MC hungry volunteers who made the trip to Kokomo.
Weather was no friend that long weekend. "I spent 10 hours Friday working in the rain and mud (helping carpenters), 11 hours Saturday at the auction, and Saturday evening and Sunday morning roofing the house and installing windows," said Wyant. Exhausted, his hands hurting even to type his homework, the student returned Monday night to continue with the work crew.
"I really enjoy watching the show, and getting the chance to help out a family in need is awesome," said senior management major and softball Spartan Rosie Bond of St. Charles, Mo. "It is a great cause because you know this family is going through a rough time. I would be happy to help out in any way."
Beer was interviewed by a Fort Wayne TV station, NBC affiliate Indiana's News Center, which has followed the story. See coverage here.
The "reveal," called "Move that Bus," of the new, 3,600-square-foot, five-bedroom Cowan-Brown home begins at 8 p.m. this Sunday, Jan. 10 on ABC. Two celebrity volunteers, singer David Cook and rapper Xzibit, joined the effort.
"Kori" Brown, who has a congenital blood disease affecting her immune system, already has endured 17 surgeries to remove painful polyps in her nasal cavity and behind her eyes. Physicians suspect that mold infestation in the family's home magnified her ailment and also affected the oldest son, Ryan.
Meanwhile, Kori, honoring a girl she befriended at the blood clinic, has raised more than $35,000 for the American Cancer Society.
"I like the show because it shows there are still good people in the world and it gives us all a little bit of hope," said Donelson. "To see all these amazing and caring people come together to make someone's life better is truly inspirational."
Service is part of the mission of the 1,223-student Manchester College. Annually, Manchester College students, faculty and staff volunteer more than 19,000 hours of service. They tutor elementary children in reading, build with Habitat for Humanity, take medical care deep into Nicaragua, teach English as a second language, work in homeless shelters, do environmental research and testing, provide senior services, engage in "green" activities, participate in food and blood drives, work with the disabled, and engage many other activities to make this world a better place.
To learn more about volunteer opportunities at Manchester College, visit the Office of Volunteer Services.
January 2010