Sweet treat for MU and guests Nov. 15:
Fort Wayne Ballet's The Nutcracker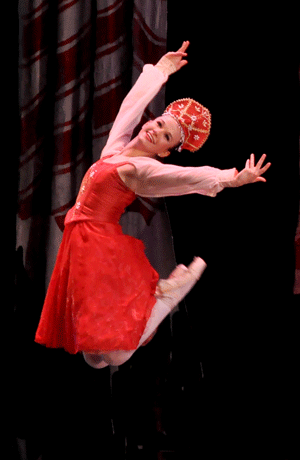 Fort Wayne Ballet brings excerpts of its classical rendition of Tchaikovsky's The Nutcracker to Manchester University on Thursday, Nov. 15. And, for a larger lesson in the performing art of dance, the program includes excerpts from Cinderella and "The Hoedown" from Rodeo.

The performance is free to all, a community gift from the University and supporters of Fort Wayne Ballet. The curtain rises at 7:30 p.m. on Nov. 15 in Cordier Auditorium on the North Manchester campus. Reservations are not necessary, but guests will want to arrive early as a sizable student audience is expected.

In 2001, The Wall Street Journal recognized Fort Wayne Ballet's production of The Nutcracker as one of the top five performances in the United States. For its Manchester University visit, Fort Wayne Ballet will perform excerpts from Act II, set in the Land of Sweets.

"It's wonderful for us to have the opportunity to take The Nutcracker into the community," said Karen Gibbons-Brown, executive/artistic director of the Fort Wayne Ballet. "It's an ageless, timeless tale – it has something for everyone. Even though we will only be performing excerpts during our visit to Manchester, I think it will be the perfect kickoff to the holiday season, and that speaks to the longevity of the story."

The MU performance is the request of iDance Party, which promotes dance activities, events and programming on campus. "Our goal is for each member of iDance to experience the elements of dance: confidence, coordination, creativity, grace, musicality, rhythm, self-esteem, technique, and an appreciation for music and dance," says club President Jeremiah Sanders, a junior music major from Marion, Ind.

Last year, iDance Party invited tap company Tappindiana to campus. Both the tap and the ballet performances are underwritten by the University.

Creative and unusual partnerships help Fort Wayne Ballet raise its community profile. Through sponsoring collaborations with organizations ranging from MU and Fort Wayne TinCaps professional baseball to Fort Wayne Animal Care & Control, Fort Wayne Ballet delivers one simple message – "Everybody Dances." For more about the Ballet, visit www.fortwayneballet.org.

November 2012