7 p.m. Thursday, January 19, 2012
Wine Recital Hall
Fort Wayne Philharmonic warms January
with Manchester College performance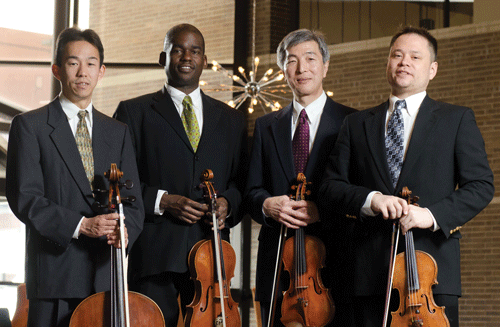 The Freimann Quartet
The Fort Wayne Philharmonic travels to Manchester College on Thursday, Jan. 19 for a special performance of the third concert in the Freimann Chamber Series. The musicians will repeat their Jan. 18 Fort Wayne concert for the College and North Manchester community audience. The North Manchester campus performance begins at 7 p.m. in Wine Recital Hall.

"We are absolutely thrilled to bring Phil musicians to the Wine Recital Hall in January," said J.L. Nave III, president and CEO of The Fort Wayne Philharmonic. "We are committed to serving our entire region, and this partnership with Manchester College is an important relationship to help us achieve our mission."

Tickets for the concert are $10, available at The Phil Box Office in Fort Wayne or the Manchester College Office of Academic Affairs, 133 Administration Building, North Manchester, 260-982-5051. Visit The Fort Wayne Philharmonic box office at 4901 Fuller Drive, Fort Wayne, call toll-free 888-402-2224 or purchase tickets online at www.fwphil.org.

"What a fantastic opportunity to hear superb chamber music performed by professional musicians right here in North Manchester," said Mark Huntington, associate dean of student affairs and a clarinetist with the Manchester Symphony Orchestra.

The Phil's Freimann Series offers an up-close experience of chamber ensemble music that highlights each instrument. The Manchester College audience will be treated to three diverse and engaging music selections, each performed by different ensembles of musicians. The intimate Wine Recital Hall on the Manchester College campus is the perfect venue for students and community guests to experience the expertise of the musicians.

The program will mirror the Freimann 3 performance the night before, in the Arts United Center in Fort Wayne: A Set of Songs and Dances by Douglass Hill and Six Bagatelles by György Ligeti.

The concert features The Freimann Quartet performing Leoš Janácek's String Quartet No. 2 "Intimate Letters." The Freimann Quartet are Hikaru Tamaki, principal cellist of The Phil; Hiromi Ito, concertmaster (violin) of The Phil since 1993; David Ling, acting associate concertmaster of The Phil; and Derek Reeves, principal violist of The Phil.

Other Freimann Series musicians visiting campus for the performance: Michael Lewellen, horn; Campbell MacDonald, clarinet; Jason Markzon, percussion; Jennifer Volk, flute; Sandra Stimson, oboe principal; and Dennis Fick, bassoon.

To ensure Manchester College students have every opportunity for this chamber orchestra experience, a limited number of tickets for MC students are available in the Office of Academic Affairs.

Music is an integral part of the Manchester College liberal arts education. Manchester offers study in music education, applied music, music theory/composition and general music. All programs emphasize excellence in performance and the importance of encouraging others to participate in and appreciate many types of music.
The 26-hour music minor affords students the ability to combine music study with other majors. For more about music at Manchester, visit www.manchester.edu.
December 2011