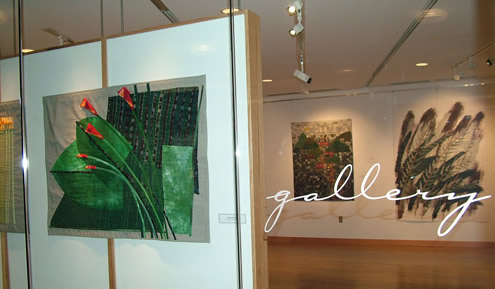 Fabric artist Julie Sermersheim
fills Manchester College's Gallery G
The fabric artworks of Julia Sermersheim are the latest Gallery G exhibit at Manchester College.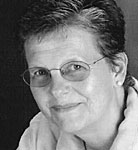 Manipulating dyed fabrics, quilt blocks, stitching, tying and inspiration, Sermersheim creates landscapes, abstracts and botanicals strongly influenced by her quilting origins. A quilter from an early age with her mother and grandmother, the Jasper, Ind., native began exploring fiber art wall pieces in the early 1980s.
The Arts Council of Southwest Indiana featured her as 2006 Spencer County Artist of the Year, and she has received an Indiana Arts Commission Grant from the National Endowment of the Arts. Her creations also are on display in the Museum of Arts + Crafts in Louisville, Ky.; the Old Stone Gallery in Newburgh, Ind. and Wandering Turtle in Bloomington, Ind.
"Sermersheim's work is particularly exciting because of the juxtaposition of the traditions of quilting with the incorporation of 'outside' or nontraditional materials and techniques," says Jena Oke, Manchester College instructor of art. "For example, in her two-piece composition Oscillate, Sermersheim uses commercial fabrics, but also includes outdoor screening mesh, acrylic paint, tyvek and strips of watercolor paper."
Gallery G, in the upper level of the College Union, is open 8 a.m. to 5 p.m., Monday through Friday. The Sermersheim exhibit continues until Feb. 14. The gallery is closed Dec. 24-26 and Jan. 1.
For more about Julie Sermersheim, visit www.justjulia.com