Meet the artists! 12:15 to 1:30 p.m., Sunday, Jan. 10
First Presbyterian Church, downtown Fort Wayne
Fort Wayne's First Presbyterian Church
displays MC student artwork Jan. 7-Feb. 21
Artwork by Manchester College student artists goes on display Jan. 7 to Feb. 21 in the Art Gallery of First Presbyterian Church in downtown Fort Wayne.
The exhibition features works in various media that represents the range of coursework at the 1,223-student independent college, said Ejenobo Oke, assistant professor of art.
An artist's reception is planned for 12:15 to 1:30 p.m. on Sunday, Jan. 10. Gallery hours are 8 a.m. to 5 p.m. Monday through Friday, 8 a.m. to noon Sundays, before theatre performances and during events at the church, 300 E. Wayne St. Get map.
For more information about the show, contact Oke at 260-982-5334 or eroke@manchester.edu.
The Manchester College curriculum includes fine arts studio, arts education and art history coursework, engaging students in drawing, painting, photography, ceramics, weaving, printmaking, graphics, 3-dimensional design and sculpture. Specialized courses are offered in fabric decoration or book arts, for example, as well as independent study. Every January, an art class travels internationally. This month, students are studying "Art in Context" in Spain.
For more about art at Manchester College visit www.manchester.edu.

January 2010
A sampling of
Manchester artwork
on exhibit at First Presbyterian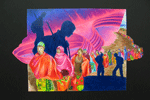 Occupation Unearthed
colored pencil
Kay Guyer '13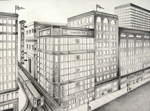 Chicago Cityscape
graphite and ink
Austin Blomeke '10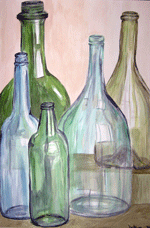 Bottles
watercolor
Alison DeNeve '11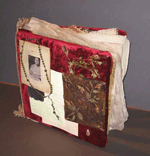 Ancestry
handmade book
Cat Davis '10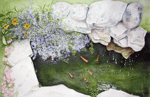 Garden Pond in June
watercolor and acrylic
Melissa Templin