Manchester College students
seek world record
in playground game Four Square
Generations of Manchester College students have learned how to play the schoolyard game of Four Square each fall during Camp Mack Day. On Feb. 25-26, current Manchester College students will take the game to the highest level, in pursuit of recognition by Guinness World Records™ for continuous Four Square play.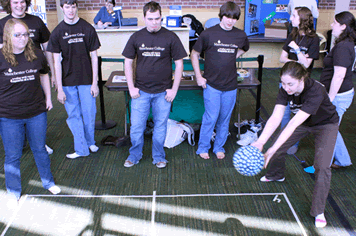 The ages-old game is as simple as can be: Four players try to keep a dodge ball or similar rubber ball in play within a four-squared court. Rather than a competition among players who try to make opponents miss the ball, this Guinness World Records™ attempt is for marathon play – 30 hours of continuous play.
The event, smack in the middle of the College's massive Haist Commons dining hall in the College Union, begins at noon on Friday, Feb. 25. They expect to enter record time at 5 p.m. on Saturday, Feb. 26.
They're taking no chances: They will play at least one hour beyond the current 29-hour Guinness World Records™ honor held by Buenos Aires International Christian Academy in Argentina, vows first-year student Todd Eastis of Warsaw, Ind.
Eastis is a member of Simply Brethren, a campus faith-based club that has assumed the leadership in the world record challenge. They're recruiting participants from organizations and among student-athletes and students across campus.
The challenge is a benefit for Camp Alexander Mack 35 miles north of campus in Milford, Ind., a popular Church of the Brethren lake retreat. Since 1925, each fall, Manchester College students, faculty and staff members spend a day at the camp, doing service, playing softball, canoeing … and playing Four Square.
Last summer, the main building, Becker Lodge, was destroyed by fire. The Four Square fund-raiser is a natural for Manchester College, whose roots are deep in the Church of the Brethren.
"Many of us learned to play at Camp Mack, and after the fire we saw how much this event could help them build a new building," says Eastis, a sociology major.
The students need lots of help from the community to prove their prowess at Four Square. In accepting the attempt, Guinness World Records™ requires witnesses and timers not associated with the College at all times. To volunteer to witness or time, connect with Eastis at 4square@manchester.edu.

February 2011