Sunday, July 4, 2010
8:30 p.m. Civic Band Concert
10 p.m. Fireworks
Fireworks, band concert highlight free
4th celebration at Manchester College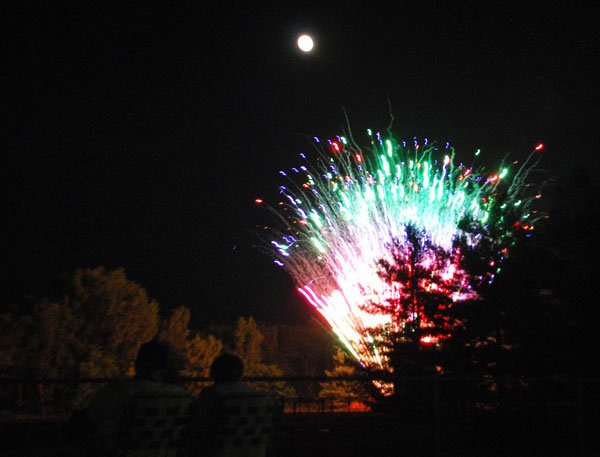 BOOM! Fireworks will fill the North Manchester sky on Sunday, July 4 in celebration in Manchester College's annual Independence Day gift to the community.
Before the spectacular display begins at 10 p.m. on the College's athletic fields, the Manchester Civic Band will strike up its show at 8:30 p.m. Residents of North Manchester and Wabash County and their guests are especially invited to the free party.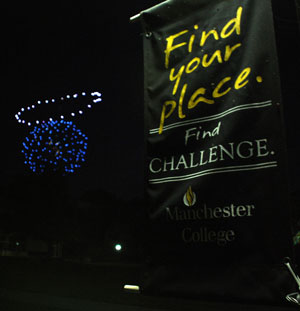 The North Manchester Fire Department ignites the $5,000 fireworks display financed by the College. Reggie Smith will direct the Manchester Civic Band in patriotic and favorite music and Bart Corricelli, former commander of the Eel River American Legion Post who served in Iwo Jima during World War II, will deliver an address – a popular tradition of the event.
Guests will want to bring blankets and chairs to enjoy the band performance. Bleachers are available during the fireworks. All events are on the athletic fields on the east side of campus, off East Street. The North Manchester Rotary will sell $1 hotdogs, pop, water and popcorn to raise funds for community projects and scholarships for North Manchester High School students.
No personal fireworks, including sparklers, are permitted, for protection of guests and the campus. If it rains on the Fourth, the event will be held Monday, July 5 – same time and place. For more about the 2010 Fourth of July Celebration at Manchester College, including directions, call 260-982-5210 or visit www.manchester.edu.
June 2010