Service and study abroad a natural
for Manchester's latest Fulbright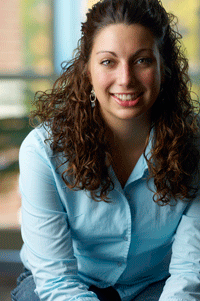 Senior Nicole Hammond is headed abroad again – this time to teach English as Manchester College's 26th recipient of the prestigious Fulbright grant administered by the U.S. government.
The biology-chemistry and Spanish dual major from Mishawaka, Ind., will use her Fulbright to teach English in Indonesia. "What I will provide to my students in Indonesia is the groundwork for all they can accomplish by knowing a foreign language and the understanding of a foreign culture that comes with that knowledge," says Hammond.
She already has considerable experience living in other countries. Hammond volunteered in a women's prison and children's hospital in Ecuador, translated for Manchester College students and medical alumni serving remote Nicaraguan villagers, and studied in Mexico. She just returned from three months in rural India, where she studied public health with a Pathways Imagination Grant to explore vocations.
Hammond, who will receive her bachelor of arts degree May 23, is a regular on the Dean's List and a member of Alpha Mu Gamma national foreign language honor society. Her volunteer work also includes Habitat for Humanity in post-Hurricane Katrina New Orleans. On campus, she has served as a student health assistant and as a lab assistant for Spanish, biology and chemistry. She is a member of the American Chemical Society and Relay for Life and an English as a Second Language tutor.
Hammond plans to attend medical school, certain her Fulbright experience will help prepare her to be a compassionate doctor. "A good physician is also a good teacher … physicians inform and educate patients, providing them with knowledge that would aid in the healing process," says Hammond, recalling her experiences with the Nicaragua medical practicum.
The first-generation college student will depart Aug. 22 for her nine-month Fulbright experience.
With Hammond's award from the U.S. government, Manchester College continues its leadership in graduating the most Fulbrights per capita of any Indiana college or university. Twenty-six MC graduates have received Fulbright grants to teach or do research in other countries. In addition, two MC faculty members did research as Fulbright Scholars.
The Fulbright is the flagship international educational exchange of the U.S. government, designed to increase mutual understanding between the United States and other countries. Congress appropriates Fulbright funding annually, with program support also from participating governments and host institutions, corporations and foundations in the United States and abroad. Read more about the Fulbright.
May 2010