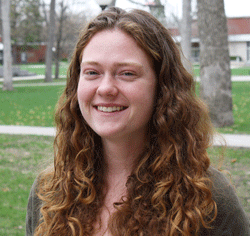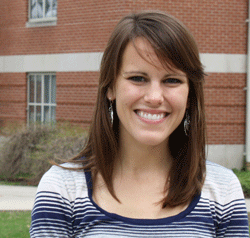 Kate Brelje Katy McFadden
Two more Manchester College
Fulbrights seek to change the world
Two northern Indiana scholars passionate about doing their part to improve global understanding will teach English in Indonesia and South Korea as Manchester College's latest Fulbrights.
One hopes to help change the world as an artist and a multi-lingual communicator, the other as a psychologist mentoring community solutions. Both graduate this May with highest honors and both take their responsibility as peacemakers very seriously: Katy McFadden of Goshen and Kate Brelje of Fort Wayne.
Since 1996, 28 Manchester College students have received the U.S. State Department's prestigious Fulbright grants for teaching or doing research abroad after graduation – more Fulbrights per student than at any other Indiana college or university. Leadership in the Fulbright program is a natural for the 1,278-student liberal arts College whose mission is to graduate persons who improve the human condition.
Kate Brelje of Fort Wayne has studied art in Italy and the correlation between art and social justice in Ecuador. During a year in Japan, she immersed in the very difficult language while living with a family. "Japan is now a part of my life; from the Japanese food that I often cook in my apartment to continued conversation in Japanese with friends," she told the Fulbright committee." She is a graduate of Concordia Lutheran High School in Fort Wayne.
Brelje also communicates in Spanish and is eager to add Korean to her vocabulary, and to reconnect with a Korean friend she met while in Japan. She talked with her new friends and Japanese family about the need for strong communication skills to end racism.
"At Manchester College, I found a world of diverse beliefs and traditions that has profoundly changed my worldview," Brelje told the Fulbright committee. Communication, through speech, smiles and art, is important to Brelje, who is teaching English to Burmese families in Fort Wayne.
Katy McFadden is nurturing a life-long interest in Indonesia. Her grandmother, father, uncles and an aunt served with the Church of the Brethren in Indonesia while her grandfather provided medical aid, and she has traveled there with her family. "Growing up hearing stories about Indonesia made me eager for intercultural experiences of my own," she told the Fulbright committee.
An active community and campus volunteer, McFadden hopes to pursue a Ph.D. in community clinical psychology after her Fulbright experience. Working with community organizations as a licensed psychologist heads the goals list of McFadden, whose minor is peace studies.
At Manchester, McFadden studied multicultural psychology in the melting pot of Hawaii for a January Session, and spent a semester in Northern Ireland, learning first-hand of the Catholic/Protestant conflict. While abroad, she participated in a forum on uniting European and American youth in confronting global challenges. "The other students I met inspired me to seek out opportunities that deepen my sense of being a citizen of the world as well as of the United States," she told the Fulbright committee.
April 2011